In This Issue
Upcoming Events • Other NESEA News • Jobs Board • Community News • Featured Benefit

Webinar: Anti-Racist Practices in Businesses & Organizations
Wednesday, May 12, 10:30am • Online • $10
NESEA is partnering with AORTA, the Anti-Oppression Resource & Training Alliance, to provide our community with access to this webinar, designed to give you the tools to start committing your business to becoming an inclusive, anti-racist organization.
During this event, sponsored by the R.W. Kern Center, AORTA staff will ground attendees with easy-to-use tools to better understand what white supremacy is and how it manifests at the interpersonal, institutional, and cultural levels both directly and indirectly. Attendees will hear specific examples of some of the most common ways we see it arise in our organizations and strategies for disrupting it. Participants will leave with tools, stories, and visions for bringing racial justice into the center of their work.
Questions? Please contact Florence MacGregor at fmacgregor@nesea.org.

Pro Tour: Affordable Passive Housing & Community Facility
Friday, June 18, 12:30pm-2:30pm • Online • Members: $20
Join this virtual Pro Tour to go behind-the-scenes with the team responsible for the Tree of Life project, a new building in Queens that will include 174 units of Passive House certified housing, a community health center, and a community facility operated by the First Presbyterian Church of Jamaica. Hear how the project team worked together to satisfy both high performance certification goals and the needs of the community the building was designed to serve.

Conference: BuildingEnergy NYC
Wednesday & Thursday, September 29 & 30 • Hybrid
BuildingEnergy NYC will take place September 29 & 30, and we anticipate that this will be NESEA's first hybrid (in person & online) event. The theme of this year's conference is Collaboration. Gone are the days in comfortable silos. To achieve essential climate goals for NYC and beyond, we need the power of collaboration. Mark your calendar!
Looking Back on BuildingEnergy Boston
Almost a thousand people came together for three days of learning, networking, and inspiration at BuildingEnergy Boston 2021 last week! If you attended the conference, please share your thoughts on the event via this short survey.
Thank you to this year's sponsors, partners, and Content Committee, especially to Conference Chairs Nick Falkoff and Stephanie Horowitz, and Vice-Chairs Anna Heath and Christopher Nielson for helping to make this event possible.
Congratulations to the winners of our conference game, NESEA Members Kyle Macht (Macht Architecture), Jason Denese (Abode Energy Management), and Keunta Epps (CLEAResult). They will receive a full suite of merch from the NESEA Merch Store!
Want to help plan next year's event? Keep an eye out for an invitation to the Open Planning Meeting for BuildingEnergy Boston 2022 this fall, or contact Ben Sachs-Hamilton, Conference Manager, at bsachs-hamilton@nesea.org.
Diversity Caucus Incident: Response from NESEA Leadership
This message is to follow up on an incident that occurred last week, during the BuildingEnergy Boston Diversity Caucus, an event designed for people of color, indigenous people, LGBTQIA people, people with disabilities, and women. It is organized by members of our community who volunteer their time to create a space for individuals to gather, share their stories, and build support, camaraderie, and community. Read the full message here.
Welcome to Our Newest Business Members
To see all business and academic members, visit NESEA's Business Member Directory. Learn more about business and academic membership on our website.
---
Jobs Board & Resume Bank
NESEA's online Career Center is a resource for members who are looking for jobs or to recruit new talent. Members seeking jobs can post to our Resume Bank. Business and academic members can search the resume bank for new hires and post open positions on our Jobs Board. Here are a few of this month's featured jobs:
Senior Passive House Consultant at Bright Power
New York, NY - Bright Power seeks a Senior Passive House Consultant to join the New Construction division within the NY Business Unit. This role involves working on high performance/passive house (CPHC and/or PHI) ground up, multifamily residential buildings mainly located in NYC. Responsibilities include (but are not limited to) design consulting, energy modeling, program administration, construction inspections and administration, and serving as a technical resource for the team. Learn more...
Sustainable Design Project Coordinator at SMMA
Cambridge, MA - SMMA is seeking a Sustainable Design Project Coordinator to join our design practice, working with our Sustainability and Energy Efficiency Group. The candidate will work with our team of sustainability experts, conducting general sustainable design and building systems optimization, LEED, and/or WELL project coordination, including documentation support using computational design tools, such as Tally, Climate Studio, Therm, and/or WUFI. Learn more...
Timber Frame Associate at Bensonwood
Walpole, NH - This position works with a team of twelve timber frame associates and is responsible for assisting with the production and preparation of the timbers used to create a Bensonwood home. The ideal candidates will have experience as a skilled timber framer, familiarity in AutoCAD or similar programs, and the desire to learn and apply innovative green building techniques. Learn more...
---
Community News & Events
We'd like to help spread the word about upcoming member events and news items. Submit news items via this form or post an event to our community event calendar, and we'll try to include it in the next Members Monthly.

Cape Cod Hemp House Expo Day
Where: Harwich, MA
When: Wednesday, May 12, 10:30am–12pm and 1–2:30pm
Cost: Free
Learn more about the benefits of hemplime construction, and be among the first to see a cutting-edge European spray-applied hemplime system in action. The house uses a combination of new and traditional building methods and materials to cut embodied carbon, reduce energy use, and improve environmental and occupant health. Chief among these is a monolithic biocomposite hemplime system that insulates the roofs and walls, provides thermal and moisture buffering, is fire, mold, and pest resistant, is inherently air-tight, and sequesters carbon. Learn more...
Marbletown Public Hearing on Adopting NYStretch 2020 Energy Code
Where: Online
When: Tuesday, May 18, 6pm
Cost: Free
The Town of Marbletown, NY (in central Ulster County) is considering the adoption of the NYStretch Energy Code-2020. This energy code makes significant improvements on 2020 ECCCNYS, and is about one code cycle ahead of the next NYS energy code and its requirements. The Board would like to know if the building community supports enhanced code before adopting it, and has set a public hearing for the board meeting on Tuesday, May 18th. The board is hoping to gauge how the community, especially builders, architects, and building owners feel about the code before they decide to adopt it or not. Learn more...
Solar & Energy Storage Northeast
Where: Online & Boston, MA
When: Wednesday, June 2–Thursday, June 10
Cost: $85-$199
Solar and Energy Storage Northeast was designed to serve and advance the solar+storage market by bringing together buyers and suppliers in solar and energy storage to explore business solutions, new technologies, policy initiatives, and other market factors. This event focuses on creating an environment that fosters the exchange of ideas, knowledge and expertise for furthering solar and energy storage development in the Northeast. Join us for the In-Person Expo in Boston (June 9-10) and for Virtual Education Sessions (June 2-3). Learn more...
RESNET HERS Rater Training
Where: Online
When: June 7–July 2
Cost: $2595 (funding available)
NEHERS offers high quality HERS rater training classes in the Northeast 2-3 times per year. Their hybrid HERS rater training classes have an online component, for building science theory, and a classroom component, for hands-on practical training and testing that is necessary to pass the rater exams. HERS rater training is the first step towards rater certification. This course has been approved by the Massachusetts Workforce Training Fund, which has funds available for employee training. Learn more...

New Paradigms in Housing
Where: Online
When: Tuesday, June 8, 8:30am-9:45am
Cost: $20 with code NESEACC2021
Working as their own developer, Baystate Commons Cohousing in Malden, MA is an innovative 30-unit cohousing community and is the first of its type under Malden's newly created Cohousing Zoning Ordinance. In this session by BSA, Anda French and representatives from Baystate Commons will discuss the finance and zoning complexities, sustainable strategies and also the misled assumptions about these communities and the possibilities to re-imagine future housing development and the client. Learn more...

PH2021: PASSIVE HOUSE FOR ALL
Where: Online & New York, NY
When: Thursday & Friday, June 10 & 11
Cost: $150–$225
NAPHN's Passive House for All is a call to action. Our existential environmental, health, and social crises demand that we look beyond isolated symptoms and tackle interlocking systemic causes across disciplines, from buildings to communities. The event will take on the full range of specialized technical, process, and policy aspects of Passive House one can expect from a NAPHN conference – and it will challenge us to make Passive House benefits, tools, and work accessible to all, and enriched by everyone. Learn more...

---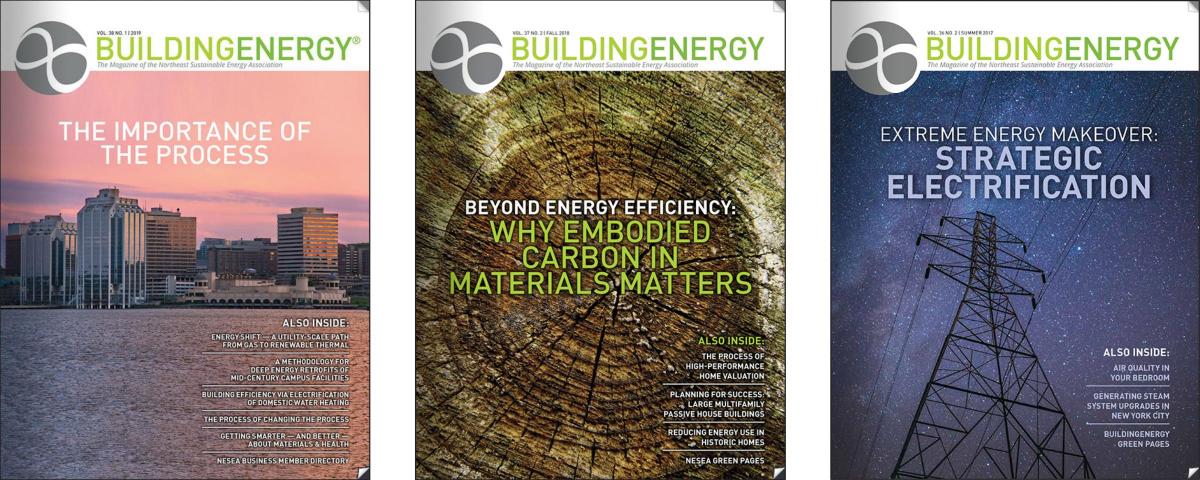 Member Pricing on Advertising in BuildingEnergy Magazine
One of the benefits of NESEA Membership is member pricing (15% off) on advertising in BuildingEnergy magazine. Advertising is an excellent way to share your products and services with thousands of high-performance building and renewable energy professionals across the Northeast and beyond. Learn more here or by contacting Ryan Dovenmuehler at ryand@emsconsultinginc.com.