In This Issue
Conference News • Other NESEA News • Jobs Board • Community News • Featured Benefit
---


Register Today for BuildingEnergy Boston!
BuildingEnergy Boston 2020 will take place as a virtual conference and trade show, Wednesday-Friday, August 12-14. The platform we've chosen prioritizes the connection and community that make BuildingEnergy Boston a can't-miss annual event. This year's theme is Transforming Existing Buildings, with additional emphasis on decarbonization and bringing more diverse communities into the discussion.
NESEA Members receive $50 off full conferences passes, which include:
Methods & Materials Showcase on Wednesday, 8/12

Virtual Trade Show
Sponsored breakout sessions

All accredited conference sessions
365 days of access to recorded conference sessions
Community-building events during the conference
NESEA Night Awards Ceremony on Thursday, 8/13
1-day conference passes and trade show only passes are also available. See the pricing page for more information.
We hope you'll join us in August for this exciting new format! Learn more and register here or save the date by adding the conference to your calendar.
Pre-Conference Webinar Recordings
Thank you to all who sponsored, presented in, and attended our BuildingEnergy Boston 2020 pre-conference webinar series. In case you missed them, recordings of these and other recent webinars are now available on our website, free of charge.

BuildingEnergy NYC is Going Virtual
BuildingEnergy NYC 2020 is going virtual. Due to the uncertain impact of COVID-19 on New York City over the next few months, we have decided that this change of format is the best way to serve our community members while also continuing to prioritize their health and safety. Making this decision now allows us to focus our energy on creating the best-possible virtual conference.
The event will take place Wednesday & Thursday, September 23 & 24. We are looking forward to providing top-notch sessions in line with the 2020 conference theme of Carbon, networking opportunities, and a vibrant and interactive trade show floor experience.
We will be sending out more details in the coming months. If you have any immediate questions, please contact us at nesea@nesea.org.

Announcing the NESEA Merch Store!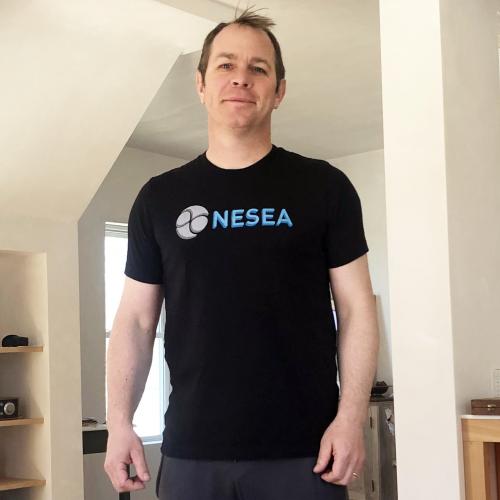 NESEA is proud to be partnering with Doing Good Merch to bring you a line of NESEA-branded merchandise made in factories that provide living wages for their workers and support fair labors standards. Currently we are offering several styles of hats, t-shirts, and face coverings. Visit our new online store here.
We'd like to thank NESEA Board Member Ben Southworth for testing and modeling one of our new NESEA T-Shirts!
Apply to Serve on NESEA's Board of Directors
Each year, the NESEA Membership elects individuals to serve on our Board of Directors. New this year:
We've formalized a board member job description and added an open application period to make the process of running for the board more transparent and accessible.
The Kate Goldstein Fund for Emerging Professionals will be available to provide assistance for individuals with the talent and commitment to serve on the board who would otherwise be barred for financial reasons (e.g., the expenses associated with traveling to/from board events and trainings)
We hope these changes will lead to a board composition that better represents the professional, geographic, and demographic diversity that comprises our community throughout the Northeast.
To learn more about what's involved in serving on the Board, view the job description and watch a virtual Happy Hour all about NESEA Board service hosted earlier this year by several current Board Members. This year, we are especially interested in candidates with grant writing and fundraising experience.
View and complete the application here (log in to view the form). The deadline to apply is July 30. If you have any questions, please email nominating@nesea.org.
Jobs Board & Resume Bank
NESEA's online Career Center is a resource for members who are looking to find jobs or recruit new talent. Members seeking jobs can post to our Resume Bank. Business and academic members can search the resume bank for new hires and post open positions on our Jobs Board. Here are a few of this month's featured jobs:
Weatherization Projects Manager at Earthshare Construction
Lebanon, NH - We seek a self-driven, experienced weatherization professional to oversee our weatherization projects. This individual will receive customer inquiries, conduct energy audits and consultations, create reports, estimate and project proposals, and coordinate and manage implementation of project scope. Ideally, the candidate will be BPI certified individual with experience in home performance, but we will train the right person. Learn more...
Lead Carpenter at Maine Passive House
Bethel, ME - Do you love to work with your hands, solve problems, and see the tangible results of your work at the end of the day? Maine Passive House, one of Maine's leading general contractors of high-end, energy efficient homes, is looking for a full-time Lead Carpenter with at least 10 years of building experience. If you're motivated by quality craftsmanship and attention to detail, we'd love to hear from you. We value diversity in our crew and encourage people of color, women, and LGBTQ carpenters to apply. Learn more...
---
Community News & Events
We'd like to help spread the word about upcoming member events and news items. Submit news items via this form or post an event to our community event calendar, and we'll try include it in the next Members Monthly.
Resilience in Challenging Times: Caring for Your Company's Mental Health
Where: Online
When: Wednesday, July 1, 4pm–5:30pm
Cost: $25–$50 sliding scale
During stressful times (such as living through a pandemic), it is important to think about the way we take care of our employees and ourselves. What do we do to prepare for times of change, uncertainty, and greater stress? This webinar will be presented by Mel Baiser of HELM Construction Solutions and special guest, Karen Blumberg of Adaptiva HR. Learn more...

Battle of the Cities: A Passive House Throwdown
Where: Online
When: Wednesday, July 1, 7pm Eastern
Cost: Free
Get ready for a fierce, tongue-in-cheek, Passive House throwdown, pitting two world-leading centers of Passive House construction—New York City and Vancouver, BC—against one another in a head-to-head, toe-to-toe Battle of the Cities. Andreas Benzing (the NYC-based Passive House architect and board president of NY Passive House) will face off against Scott Kennedy (the Vancouver-based Passive House architect and board chair of Passive House Canada) for this rapid-fire display of the two cities' most exemplary Passive House buildings. This event is part of Passive House Accelerator's Global Passive House Happy Hour. Learn more...

Passive House 2020: Choose Your Future
Where: Online
When: Every Wednesday through July 29, 1pm–4pm
Cost: $220 (Members get 10% off with code naphn20nesea)
NAPHN's Passive House 2020: Choose Your Future is a call to action – to recognize the power of individuals to produce change and to build a movement; a call for us all to not forfeit our influence over events but to use it. Our global pandemic and climate emergency ask: How will you change? What will you choose to do? #PH2020, embraces these tough fundamental questions and provides you with actionable answers. Learn more...

2020 New Gravity Housing Conference
Where: Online
When: Thursday–Friday, August 6–7
Cost: $150
The reality of climate change will fundamentally alter the way buildings are designed, built, and operated in the coming decades. At the same time, the need for quality affordable housing that can withstand increasingly extreme and volatile weather continues to grow. Building healthy, safe, and accessible places to live that will both limit and adapt to climate impacts is a key challenge for the 21st century. This cutting edge conference hosted by Green Building United will explore the tools, techniques, and practices that the building community is using to address this challenge. Learn more...
Using PHPP in Passive House Design and Certification
Where: Online
When: 6 sessions, August 18–September 3, 12pm–4pm
Cost: $1,075
Join NAPHN & Peel School of Passive House for the online course: Using PHPP in Passive House Design and Certification, participants will learn how to use the PHPP for residential building design and certification. Participants will be guided step-by-step through the relevant worksheets, while learning the correct conventions for measurements and calculations. Proper documentation will also be covered in detail. A case study will provide participants with practical experience in completing and documenting PHPP calculations for building certification. Learn more...
BuildingsNY
Where: New York, NY
When: Tuesday–Wednesday, September 15–16
Cost: Varies
For 35 years BuildingsNY has been the leading event for NYC building professionals, including Building Owners, Property Managers, Facility Engineers, Managing Agents, Energy Engineers and Superintendents. This annual event brings together more than 5,550 industry professionals and will provide you with the tools and suppliers you need to increase your building's profitability, grow your businesses, and operate efficiently. Learn more...
---

Additional Benefits for Industry Leader Members
In addition to the standard benefits that NESEA Business Members receive, NESEA Industry Leader Business Members receive the following:
Interested in renewing your membership at the industry leader level? Visit our website or contact Katie Schendel, Membership Manager, at kschendel@nesea.org.
---