In This Issue
Conference News • Other NESEA News • Jobs Board • Community News • New Benefit


Share Your Vision for BuildingEnergy NYC
Online, Thursday, February 4, 2pm–4pm: Bring your ideas for BuildingEnergy NYC 2021 to the Open Planning Meeting tomorrow! Join Co-Chairs Adam Watson and Gwen McLaughlin in an interactive discussion to begin planning the 2021 conference.
This meeting will allow for thoughtful conversation with other NYC-region professionals. You'll also learn how to become a member of the formal Content Committee and help take the 2021 conference content to the next level. Register here.


Get Ready for BuildingEnergy Boston!
BuildingEnergy Boston 2021 will be held virtually, Wednesday-Friday, May 5-7. Wednesday will feature a Methods & Materials Showcase with live product demos, networking events, and a keynote presentation. Thursday and Friday will feature accredited conference sessions that offer best practices and lessons learned, case studies and proven data, technical how-tos, emerging technologies, and innovative policies and programs.
Registration will open later this month. For now, save the date!
Present a Live Demo at the Virtual Conference
Over the past year, we've piloted some fantastic new ways for sponsors and exhibitors to interact with attendees on a digital platform. We're now looking forward to incorporating even more interactivity into BuildingEnergy Boston 2021. Here are just a few possibilities for interactive events:
Run a live product demo or site tour (limited availability).
Host a virtual beer-tasting, game show, concert, or other activity to bring people together.
Mail product samples or branded materials in advance to attendees (and possibly incorporate them into a sponsored session)
See all sponsorship opportunities here or contact Executive Director Miriam Aylward at maylward@nesea.org or (413) 774-6051 ext. 14 for more information.

Pre-Conference Webinar Series
As a proud sponsor of BuildingEnergy Boston and BuildingEnergy NYC, Daikin is pleased to present a 4-part, sponsored webinar series, Technologies that Improve the Air We Live In. Join us for the second installment, Making a Difference in Single Family Homes, next Tuesday, February 9 at 12pm. During this free webinar:
Daikin representatives will review the core of their next-gen solutions including inverters, heat pumps, and refrigerants.
you'll go on virtual tours of the Lynbrook Design Center, just outside NYC, and of a single-family home installation in Westchester County, NY, which integrates next-gen and old-gen heating systems.
you'll take a deeper dive into supplemental heating controls, including Daikin's One+ technology.
Other NESEA News
Member Benefits Survey
Your NESEA Membership comes with more than a dozen benefits, from a subscription to BuildingEnergy magazine to affordable financing on energy efficiency projects. We want to know which benefits are the most useful to you and hear about your experience as a NESEA Member.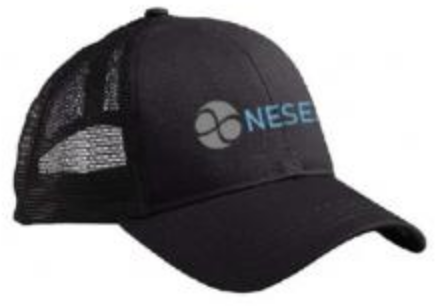 If you haven't already done so, please complete this short survey (~3 min) by Friday, February 12, to be entered for a chance to win an item of your choice from the NESEA Merch Store. We look forward to hearing from you!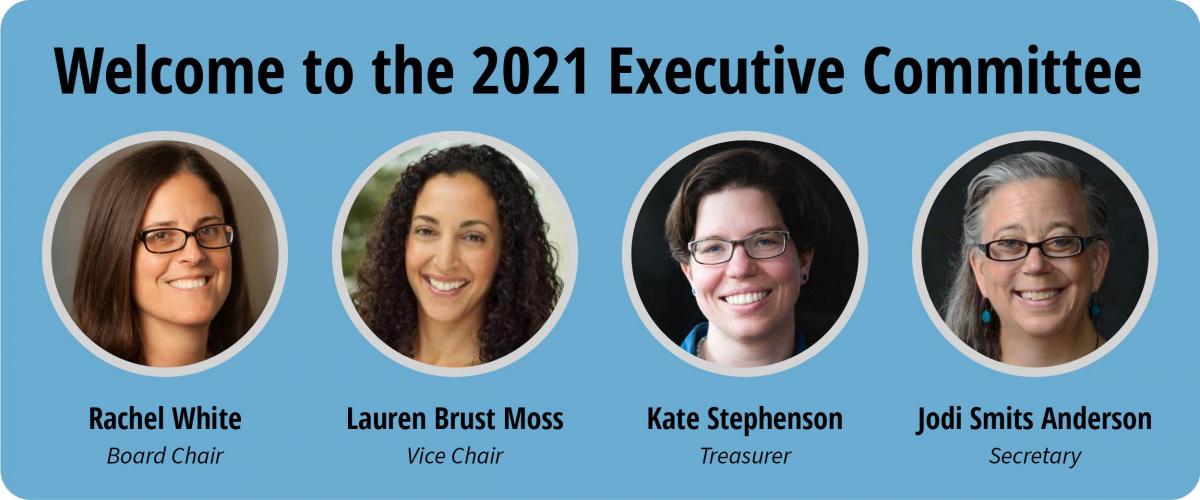 Board of Directors Update: Executive Committee
We are thrilled to announce that Rachel White, CEO of Byggmeister Design/Build, has been appointed as NESEA's new Board Chair. Rachel has been an active participant on various NESEA Member committees since 2012. She served as a BuildingEnergy Boston Vice-Chair in 2015 and Co-Chair in 2016. She has also served on the BuildingEnergy magazine editorial committee and currently participates in BuildingEnergy Bottom Lines.
Outgoing Board Chair Lauren Brust Moss (NORESCO) will continue to serve on NESEA's Executive Committee as Vice Board Chair. We are incredibly grateful for her leadership over the past 2 years.
The final two spots on this year's Executive Committee will be rounded out by Kate Stephenson (HELM Construction Solutions) as Treasurer and Jodi Smits Anderson (DASNY) as Secretary. You can meet all members of NESEA's Board of Directors here and view all board and advisory committees here.
Welcome to Our Newest Business Members
To see all business and academic members, visit NESEA's Business Member Directory. Learn more about business and academic membership on our website.
---
Jobs Board & Resume Bank
NESEA's online Career Center is a resource for members who are looking for jobs or to recruit new talent. Members seeking jobs can post to our Resume Bank. Business and academic members can search the resume bank for new hires and post open positions on our Jobs Board. Here are a few of this month's featured jobs:
HERS Rater at New Ecology, Inc.
Boston, MA - New Ecology, Inc.("NEI") seeks candidates for the position of HERS Rater. This position is part of an organization-wide technical services team with expertise in HERS and other rating systems, energy auditing, construction inspections, site verifications, and energy modeling. The HERS Rater may work remotely during the pandemic but will ultimately work out of New Ecology's Boston office. Learn more...
Carpenter (remodeling, energy efficiency, historic preservation) at RJ Aley Building Contractor
CT - R.J. Aley is seeking a carpenter for home remodeling, energy efficiency, historic preservation & handyman work. No new construction. We are looking for someone who is interested to work on all kinds of houses, from a 1700's Colonial to houses built in the last 5 years. We do whole house remodels, additions, kitchens, baths, energy efficiency upgrades & handyman work. We encourage applications from all genders and offer a friendly, positive, respectful work environment. Learn more...
Logistics Manager at 475 High Performance Building Supply
New York, NY - 475 is a rapidly growing Brooklyn-based startup that imports, distributes, and advises on high performance green building components throughout North America. We seek a highly motivated Logistics Manager interested in logistics planning, international supply chain processes, and inventory management. You will have the opportunity to be involved in the management of a growing green business, as well as interact with designers, architects, engineers, and green building firms across NYC and throughout North America. Learn more...
---
Community News & Events
We'd like to help spread the word about upcoming member events and news items. Submit news items via this form or post an event to our community event calendar, and we'll try to include it in the next Members Monthly.
HELM Construction Solutions Receives JUST Label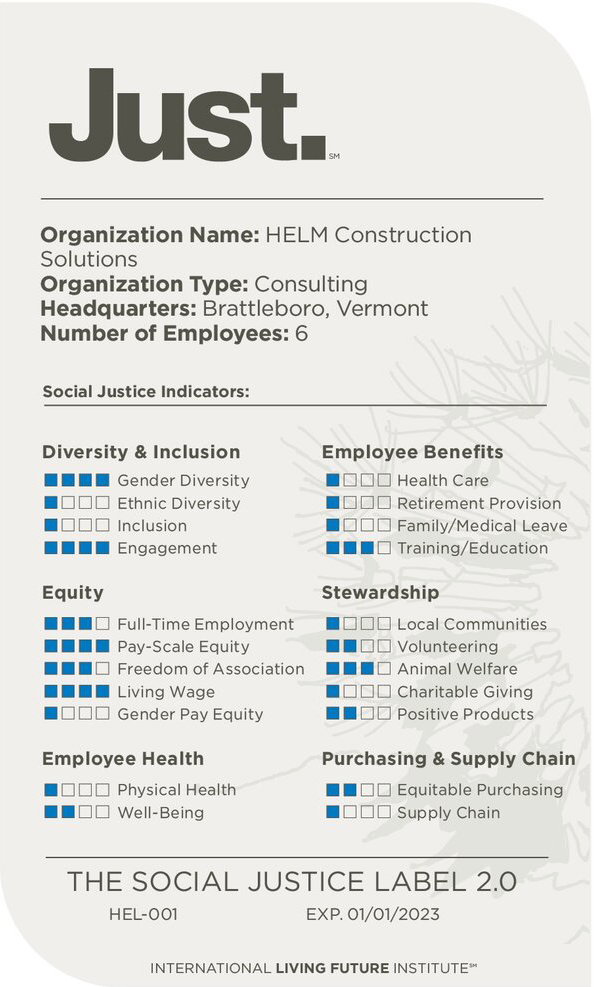 HELM Construction Solutions is pleased to announce that they have been granted a JUST 2.0 label by the International Living Future Institute. This voluntary disclosure tool requires reporting on a range of social justice and equity indicators, providing a framework for assessing an organization's impact on employees, stakeholders, and communities. You can find out more about the JUST program here.
Based on this experience, the team at HELM is now equipped and excited to guide clients through the JUST application process as they continue to promote social justice and sustainable business practices in the construction industry. Get in touch to learn more about how they can help you get started! Learn more...
Submission Deadline: PropTech Challenge Tenant Energy Data
Where: Online
When: Friday, February 12
NYSERDA is excited to present an additional category for the 2020 PropTech Challenge. This year's Tenant Energy Data category is a data science competition accepting applications until Friday, February 12, 2021 at 11:59PM ET.
The Tenant Energy Data category is designed to improve understanding of the drivers of electricity consumption within sub-metered office space in NYC. This category provides real world consumption data from a single large office tenant in Midtown Manhattan along with some building-wide data. Participants will respond to problem statements by uploading output from predictive models and linking to publicly available submission overview videos. Learn more...
Passive House RETROFIT Summit
Where: Online
When: Monday, February 15, 7pm-9pm
Cost: Free
As the Passive House community knows, retrofits hold the key to decreasing significant carbon emissions from the building sector and mitigating the effects of climate change. Join Passive House Accelerator on February 15 to hear from leaders of the boldest retrofit programs in North America on how to push the pace of retrofits and cut carbon emissions from existing buildings. Expect scintillating presentations and lively discussion! Learn more...
Building a Sustainable Future
Where: Online
When: February 24, 12pm & February 25, 6pm
Cost: Free
Green buildings can reduce carbon emissions, conserve water and energy, and make homes and commercial buildings more comfortable and healthy for inhabitants. Join the Center for EcoTechnology and a panel of experts to learn about LEED, Passive House, the Living Building Challenge, and other cutting-edge programs and technology! Learn more...
Certificate in Building Science and Net Zero Design
Where: Online
When: March 1–April 22
Cost: $4,000 (NESEA Members receive $250 off)
NESEA Members get $250 off tuition on Yestermorrow's spring Certificate in Building Science and Net Zero Design class, held online. Through lecture, case study, demonstration, hands-on testing, and design exercises, students will gain a firm grasp of the science behind building performance and begin to explore how to design in accordance with the laws of physics and the forces of nature. Apply for the discount here. Once accepted, you can register online and indicate that you are a NESEA Member; the discount will then be automatically applied.
RESNET HERS Rater Training
Where: Online
When: March 8–April 2
Cost: Varies (register by Feb. 8 for $200 off)
NEHERS offers a comprehensive training package that includes everything a student needs to be well prepared to become a HERS rater. Their hybrid HERS rater training classes have an online component, which includes all of the building science theory, and a classroom component, which includes all of the hands-on practical training and testing that is necessary to pass the rater exams. Due to Covid-19, the classroom component will be conducted live over distance learning. Learn more...
Subject2Change – Sustainability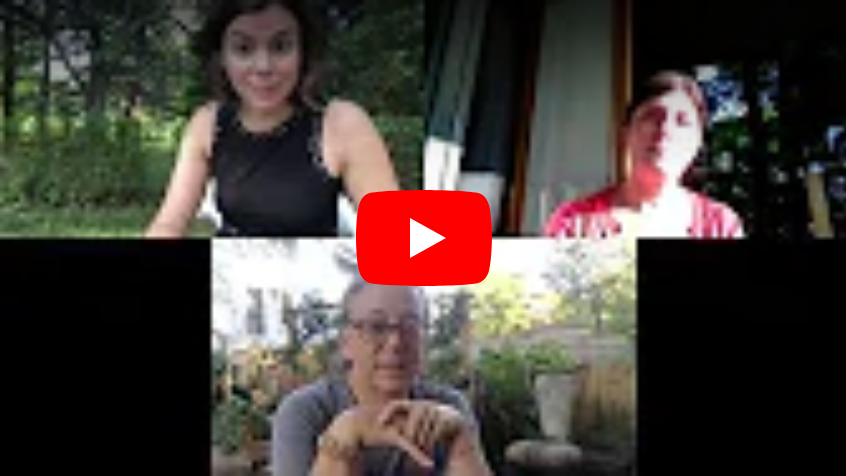 NESEA Lifetime Member and Board Member Jodi Smits Anderson has created a YouTube video blog called Subject2Change – Sustainability. In this vlog, Jodi and her co-host, Lauren Staniec, have casual conversations with all kinds of people engaging in sustainability, resilience, behavior change, and more, in realms from green building to education to equity. Check out the vlog!
---

Access to Affordable Clean Energy/Energy Efficiency Loans
In 2017, NESEA partnered with VSECU, a Vermont-based credit union, to give NESEA Members access to affordable financing for energy efficiency projects. Through this partnership, more than 900 NESEA Members have received loans from VSECU for products and services to improve the energy efficiency of their homes.
We are now excited to offer a second financing option to our members. NESEA has partnered with the Clean Energy Credit Union, an online-only credit union focused solely on lending for clean energy products and services such as PV systems, electric vehicles, energy efficiency retrofits, electric-assist bicycles, and NZE homes. Learn how to access this financing here.
Questions? Contact Katie Schendel, NESEA Membership Manager, at kschendel@nesea.org or (413) 774-6051x20.
---