In This Issue
Upcoming Events • Other NESEA News • Jobs Board • Community News

Deadline: Scholarships for Students & Emerging Professionals
Friday, April 9, 11:59pm
NESEA is accepting applications for the spring 2021 BE the Future scholarship cycle. Each scholarship includes a day pass to BuildingEnergy Boston, a one year NESEA Membership, and a pass to a BuildingEnergy Pro Tour.
If you know an emerging professional or student who would benefit from attending BuildingEnergy Boston, encourage them to apply by this Friday, April 9.

Webinar: Daikin & the Commercial HVAC Building Sector
Tuesday, April 13, 12pm-1pm • Online • Free
As a proud sponsor of BuildingEnergy Boston and BuildingEnergy NYC, Daikin is pleased to present a 4-part, sponsored webinar series, Technologies That Improve the Air We Live In. Join us for the final installment in the series, Why Daikin Is a Leader in the Commercial HVAC Building Sector.
Greg DiNardo (Daikin Applied) will give a live tour of Daikin Applied's Solutions Plaza in Jersey City, NJ to highlight many of the air- and water-source heat pump technologies used for meeting heating and cooling loads along with ventilation loads in commercial buildings. JS Rancourt (DXS) will share how to best incorporate VRV technologies into commercial office buildings and review an innovative approach to electrifying educational buildings. They'll conclude with a panel discussion and Q&A.
Pro Tour: Historic NYC Firehouse to Modern Passive House
Friday, April 16, 12:30pm-2:30pm • Online • Members: $20 • CEUs: 2 AIA LU|HSW
This virtual Pro Tour will offer participants a behind-the-scenes look at a unique renovation currently underway in Manhattan: the transformation of a historic firehouse into 4 units of PHI-certified passive housing. The project team is aiming for PHI EnerPhit certification and will detail some of the specific challenges and opportunities associated with bringing a DER to an urban building of this scale. Through a mix of presentation and small group breakout rooms, we're using a format that preserves the interactive, behind-the-scenes vibe that has made NESEA's Pro Tours so popular.

Workshop: 21st Century Green Building Workforce
Tuesday, April 20, 4pm-5pm (followed by happy hour) • Online • Free
Within NESEA's territory, there is a small army of talented youth from underserved communities who would flourish in the sorts of careers that businesses in our community can offer. At the same time, there are scores of businesses hoping to recruit new and diverse employees to fill the labor shortage gap. This community event, The 21st Century Green Building Workforce is Hiding in Plain Sight, will be a first big step towards bringing those groups together.
Designed for companies who want to contribute to this vision, this workshop will feature representatives from some of the Boston area's premier organizations for connecting youth of color and employers in the architecture, engineering, and construction community. This event is sponsored by E4theFuture.

Pro Tour: Affordable Passive Housing & Non-Profit Community Facility
Friday, April 30, 12:30pm-2:30pm • Online • Members: $20
Join this virtual Pro Tour to go behind-the-scenes with the team responsible for the Tree of Life project, a new building in Queens that will include 174 units of Passive House certified housing, a community health center, and a community facility operated by the First Presbyterian Church of Jamaica. Hear how the project team worked together to satisfy both high performance certification goals and the needs of the community the building was designed to serve.

Conference: BuildingEnergy Boston 2021
Wednesday-Friday, May 5-7 • Online • $40-$350
BuildingEnergy Boston 2021 is 1 month away! Register today to partake in 3 days of virtual learning, conversation, and inspiration. With member pricing, a full conference pass is $315 and includes interactive demos, accredited conference sessions, and community events.
Sessions offer practical, data-rich, high-quality learning: from humidity challenges to project management skills to electrification know-how, with case studies of single-family remodels to the largest Passive House multifamily projects in the US, and more.

Awards Ceremony: NESEA Night
Thursday, May 6, 5pm-6pm • Online • Free
Join us in celebrating the contributions of two individuals in our community at NESEA's annual awards reception. In addition to the live presentation of the awards, there will be games, prizes, and a chance to send your best wishes to the award recipients. This community event is open to the public and free of charge. Please note: If you are already registered for BuildingEnergy Boston you do not need to register separately for NESEA Night.
Welcome to Our Newest Business & Academic Members
To see all business and academic members, visit NESEA's Business Member Directory. Learn more about business and academic membership on our website.
---
Jobs Board & Resume Bank
NESEA's online Career Center is a resource for members who are looking for jobs or to recruit new talent. Members seeking jobs can post to our Resume Bank. Business and academic members can search the resume bank for new hires and post open positions on our Jobs Board. Here are a few of this month's featured jobs:
Sustainability Consultant at The Green Engineer
Concord, MA - The Green Engineer is an employee-owned MA Benefit Corporation, located in Concord, MA, recognized as "Best for the World" for our environmental performance by B Lab. We are currently seeking a Sustainability Consultant to serve as project lead for all aspects of sustainable design consulting and the LEED /WELL/Fitwel certification process on projects ranging from small commercial tenant fit-outs to multi-million-dollar new construction projects. Learn more...
Designer at Black Mountain Architecture
Saranac Lake, NY - BMA, an award-winning architecture, sustainable design, and consulting firm in Saranac Lake, N.Y. seeks a designer to join our team. We value collaboration, craft, and the close-knit Adirondack community where we work and live. We're looking for skilled, self-motivated designers who are inspired by the natural world. To thrive here, you'll also need outstanding technical skills and the desire to work closely with everybody on our team. Telecommuting/remote work options available. Learn more...
Carpenter/Lead at Kolbert Building
Portland, ME - Kolbert Building is a small residential construction company with a focus on high-performance, low-carbon new homes and renovations. We have written for and been published in many trade and design publications, have taught in multiple venues, and are active members of various industry groups. Learn more...
---
Community News & Events
We'd like to help spread the word about upcoming member events and news items. Submit news items via this form or post an event to our community event calendar, and we'll try to include it in the next Members Monthly.
High-Performance Virtual Project Tour
Where: Online
When: Thursday, April 8, 2pm-3pm
Cost: Free
Join Auburndale Builders on Thursday, April 8th at 2pm for a virtual tour of our current near-net-zero project in Belmont! We'll be joined by architect Matt Genaze from Zero Energy Design, along with the Auburndale team. There is no cost for registration, but sign up below and we'll send a follow up email with a reminder and instructions on how to login and join. Learn more...

Submission Deadline: USGBC Live Call for Proposals
Where: Online
When: Monday, April 12, 11:59pm
Cost: Free
USGBC has launched a call for proposals for USGBC Live, a new, community-focused virtual event experience. The event will blend the expertise of our vast community of green building leaders with the data, insights and stories from influential leaders, as well as thousands of global LEED and green building projects, to produce insightful and engaging conversations about the future of buildings, cities and communities. We are looking for sessions detailing actionable insights, digital tools and strategic best practices critical to staying current with LEED. Learn more...
Resilience Rating Systems: Better Buildings & Better Communities
Where: Online
When: Wednesday, April 14, 1pm-2:30pm
Cost: $10-$15
Join USGBC Middle Atlantic New England region + SAME NYC Post for this special webinar. Over the last decade a set of new tools to enable communities and project teams to assess the resilience of buildings and infrastructure has come into existence. Using such approaches as the successful LEED rating system, resilience rating systems have now gained footing in the marketplace. These have been developed at the local, state and national level and represent the work of researchers, practitioners and policy makers. In this panel discussion, a group of experts from across NYS and the US will discuss the various rating systems that are ready for you to use to help assess the resilience of your efforts. Learn more...
Submission Deadline: 2021 ASES Award Nominations
Where: Online
When: Thursday, April 15, 11:59pm
Cost: $10-$15
ASES is now accepting nominations for awards and fellows to be presented at SOLAR 2021 in August. All nominations must be made by a current ASES Member and submitted no later than April 15, 2021. Submit here and send letters of support to awards@ases.org. To submit a Fellows nomination, please send letters of nomination to the ASES 2021 Fellows Committee at fellows@ases.org by April 15.

Boston Miami Learning Exchange: Resiliency & Affordable Housing
Where: Online
When: Wednesday, April 21, 8:30am
Cost: Free
Join the Boston Miami Learning Exchange on Wednesday April 21st at 8:30am for a free information session via Zoom to learn more details about the Boston-Miami Learning Exchange taking place November 7th - 10th in Miami, Florida. Our group will include attendees from Boston, New York, and South Florida learning how Miami is managing sustainability, sea level rise, and affordable housing. All are welcome to participate in this information session. Learn more...
Intro to Passive House Standards
Where: Online
When: Wednesday, April 21, 10am-4pm
Cost: $195
Join NAPHN and Passive House Pennsylvania for an Introduction to the Passive House Standard. Passive House goals and methodology change the way architects and builders think and work, making the architectural design itself a driver of climate, health, and social solutions. This is a 6-hour course that dives into the basic principles, history, certification, and the new frontiers of Passive House design as it continues to challenge and change industry expectations. All theory is then illustrated through several case studies outlining specific Passive House principles. Learn more...
Diversity Caucus Social Hour
Where: Online
When: Thursday, April 29, 12:30pm-1:30pm
Cost: Free
The conveners of the BuildingEnergy Boston Diversity Caucus will be hosting an informal connection-building event for people of color, indigenous people, LGBTQIA, people with disabilities, and women in the NESEA community. It will take place on the Topia platform, a playful and interactive interface that will allow attendees to meet and interact with one another. RSVP for this event here. If you have questions about the event, you can email fmacgregor@nesea.org to be connected with the organizers.
NORESCO Named 2021 Fitwel Best in Building Health Awardee!
NORESCO was recognized by The Center for Active Design as the consultant with the Greatest Number of Certifications in 2020 and the consultant with the Greatest Impact on Building Health for the highest square footage certified through our work with RXR Realty.
Created and run by the The Center for Active Design, this recognition program identifies firms enhancing human health via Fitwel®. This year's winners were identified based on Fitwel's 2020 project data and presented on March 25 at a virtual awards ceremony. Congratulations to the 2021 winners of the Fitwel Best in Building Health Awards® and thank you to the clients who entrusted us with this meaningful work!
Online Summer Course: UMass Amherst Offshore Wind Certificate
The UMass Dept. of Environmental Conservation and Clean Energy Extension offer an online professional certificate in offshore wind for professionals and grad students seeking to prepare for industry career opportunities. Registration is now open for the Summer 2021 course: Offshore Wind Energy – Project Economics, Deployment, and Business Logistics. Learn more...
New Issue of Fine Homebuilding Magazine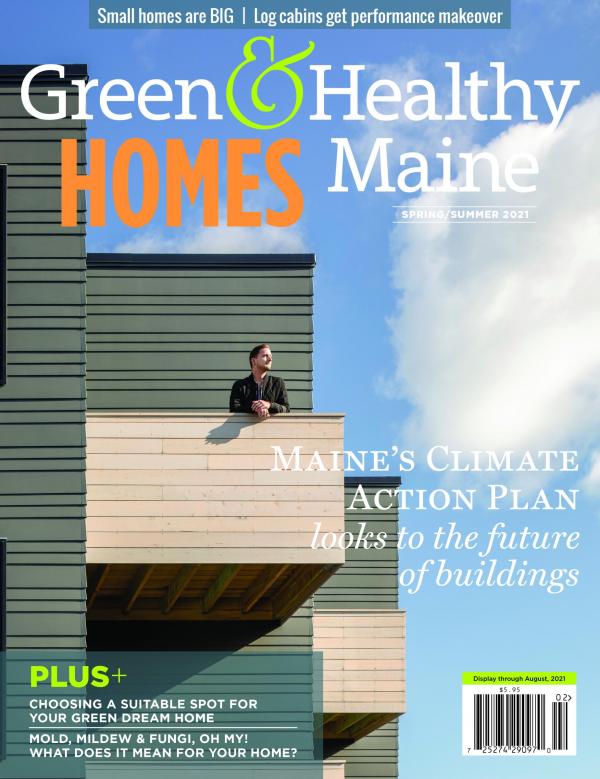 Green & Healthy Maine HOMES is dedicated to inspiring real Maine homes that are as healthy for the people who live in them as they are for the planet. Through their website, bi-annual magazines, webinar series and monthly e-newsletters, Green & Healthy Maine HOMES shares expert advice, informative case studies, high performing Maine home profiles, interviews with industry leaders and cutting-edge information about today's technologies for creating healthy, comfortable, affordable, efficient and sustainable homes.
---