We've Rebranded!
We are excited to announce that our Members Monthly newsletter has been rebranded as NESEA Monthly and will be distributed to NESEA's full network. This change will help keep our wider community informed about what's going on at NESEA and give our members a larger platform through which to share their work. If you are not a current member, join or renew today to feature your news in next month's newsletter. Questions? Contact Katie Schendel, Membership Manager, at kschendel@nesea.org.
In This Issue
Upcoming Events • Featured Benefit • Other NESEA News • Jobs Board • Community News
Pre-Conference Showcase
When: Tuesday, February 15, 9am–5pm
Where: Online
Cost: Free
The BuildingEnergy Boston 2022 Virtual Pre-Conference Showcase is a free event on Tuesday, February 15, two weeks before the in-person conference. The showcase will feature sponsored sessions, community events, and networking opportunities.
If you register for the in-person conference, you will be automatically registered for the Pre-Conference Showcase. If you aren't able to make it to the in-person event, you can register for just the virtual Showcase. Check out the schedule for the day here.
BuildingEnergy Boston 2022
When: Monday, February 28–Tuesday, March 1, 9am–6pm
Where: Boston, MA at the Westin Boston Seaport District
Cost: Varies
BuildingEnergy Boston 2022 will take place as an in-person conference on Monday, February 28, and Tuesday, March 1. We are delighted to present the lineup of 40 conference sessions that support this year's theme of Who's In?
With member pricing, a full conference pass is $585 ($650 for non-members). Advance pricing closes one week before the conference, so register today!
BuildingEnergy NYC 2022 Open Planning Meeting
When: Wednesday, March 23, 9am–5pm
Where: Online
Cost: Free
BuildingEnergy NYC 2022 will take place in-person on September 15. Share your vision and help to shape this year's event by attending our Open Planning Meeting! The meeting will be interactive and paced to allow thoughtful conversation with other professionals from around the Northeast. We will be discussing questions such as:
What new skills, knowledge, and solutions are most needed in the field today?
How can we step up our game to meet new challenges and opportunities?
What session topics and speakers would create an extraordinary learning experience at the BuildingEnergy conference?
You'll also learn how you can become a member of the Content Committee, which reviews session proposals and guides their development into high-quality sessions. The planning meeting is open to all – NESEA Membership is not required to register.
---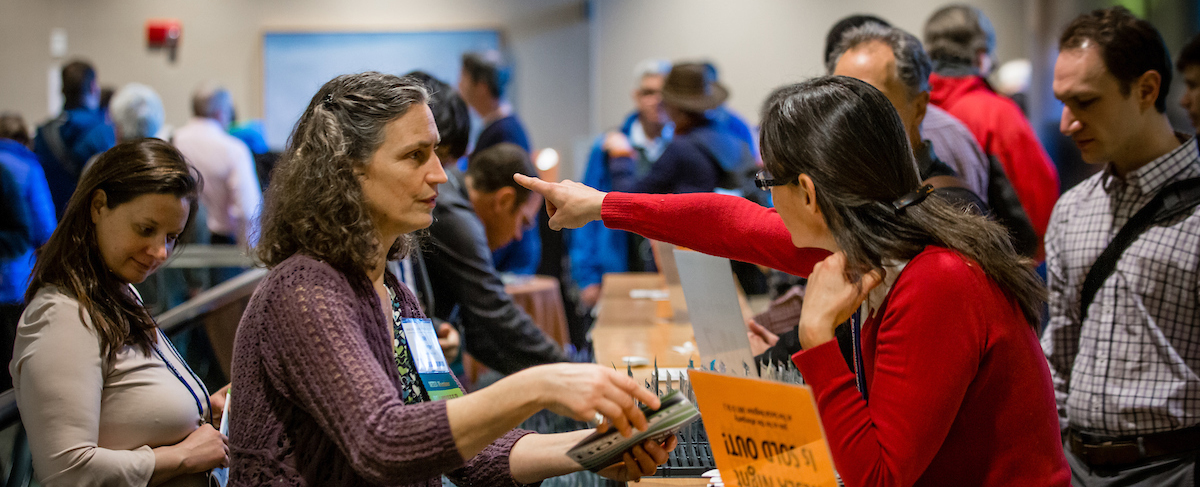 Volunteer Work Exchange
NESEA depends on volunteers to help make BuildingEnergy Boston a success each year. We use a work-exchange model: in exchange for working during part of the conference, you get to attend part of the conference for free.
Any current NESEA Member who would like to serve in the role of volunteer is welcome to apply for a position. Volunteer positions are offered on a first-come, first-served basis. Questions? Contact Florence MacGregor at fmacgregor@nesea.org.
Annual Diversity, Equity, & Inclusion Update from NESEA's Board Chair
Each year, NESEA's Board of Directors provides the community with an update on our progress towards efforts related to diversity, equity, and inclusion (DEI). These updates began as a response to recommendations generated by a member-driven event – the 2019 Diversity Caucus at BuildingEnergy Boston – and have evolved into an important inflexion point as we examine what we've accomplished and the work still ahead. We're enormously proud of the progress NESEA has made. But we must also honestly acknowledge how far we still have to go.
As we enter 2022, we are rededicating ourselves to DEI. To demonstrate the board's resolve, we are instituting a board DEI liaison, Andrea Mancino, who will work closely with Florence MacGregor, the equivalent staff point-person, to build on our progress. In this role, Andrea will act as a resource, a sounding board, and an advocate. We are also pleased to announce that we have created a resource page on on our website to keep our community informed of NESEA's programs and initiatives related to DEI all year long. Read the full update here.
Welcome to Our Newest Member Organizations
See all member organizations on NESEA's Business Member Directory. Learn more about business, academic, and non-profit/government membership on our website.
---
NESEA's Jobs Board and Resume Bank are resources for those looking for new jobs or to recruit new talent. The Jobs Board is available for anyone to search. Members seeking jobs can post to our Resume Bank. Member organizations can post open positions on the Jobs Board and search the Resume Bank for new hires. Here are a few of this month's featured jobs:
Designer/Architect at South Mountain Company
West Tisbury, MA (Martha's Vineyard) - Every South Mountain design-build project rests on a foundation of integrated architecture, engineering, and construction. The design process is where these elements are first woven together. You'll join a small, tightly-knit team of problem solvers who collaborate to advance the architectural expression of high-performance, low-carbon building. The bulk of your time will be spent assisting the Director of Architecture and Project Architects with the design/build process from predesign through closeout. Learn more...
Senior Associate: REALIZE Program, Carbon-Free Buildings at RMI
MA/Remote - RMI is a nonprofit focused on the transition to a clean, prosperous, and zero-carbon future for all. We are hiring a Senior Associate in Massachusetts to support implementation of REALIZE-MA. REALIZE is an initiative within RMI's Carbon Free Buildings program aimed at catalyzing the zero-carbon building revolution for existing buildings. In response to the climate crisis, REALIZE develops scalable approaches for zero carbon renovations (i.e., deep energy retrofits) on affordable multifamily housing. We focus on affordable low-income housing to ensure that populations most in need benefit from the transition off fossil fuels. Learn more...
Lighting Retrofit Coordinator at Dartmouth College
Hanover, NH - The Lighting Retrofit Coordinator supports Dartmouth's Engineering and Utilities Department to provide day-to-day management and implementation of the LED Lighting Retrofit Program. The purpose of the LED Lighting Retrofit Program is to install energy efficient LED lighting systems throughout the campus to reduce energy use, greenhouse gas emissions, energy costs and maintenance costs. Learn more...
---
Community News & Events
We'd like to help spread the word about upcoming member events and news items. Submit news items via this form or post an event to our community event calendar, and we'll try to include it in the next Members Monthly.

Deadline: Green Building United - 2022 Call for Conference Sessions
When: Tuesday, February 15
The 2022 Sustainability Symposium is taking place Friday, May 6th at Penn State at The Navy Yard. The Symposium offers a full-day of educational sessions presented, both live and online, covering cutting-edge green building and sustainability topics and industry best practices, including LEED, Passive House, Living Building Challenge, Enterprise, WELL, green stormwater infrastructure, 2030 Districts, and more. If you have a session proposal related to any variety of sustainability and green building topic, from introductory to advanced, we want to see your submission! Learn more...
Ready, Set, Scale
When: Tuesday February 22, 11am–12pm
Where: Online
Cost: Free
The Ready, Set, Scale webinar series focuses on the mechanisms key to rapid, equitable decarbonization of the regional commercial and residential buildings sector. This series will examine strong policies and regulations to address building emissions, market transformation for electric space and water heating, community-led solutions, and replicable program and business models for low-carbon retrofits, all with emphasis on workforce development and equity. February's webinar will be focusing on stretch codes. Learn more & register here.

Webinar: State of Energy in Northeastern North America
When: Wednesday, February 23, 11am–12pm
Where: Online
Cost: Free
The Northeastern North American region covers seven states in the US and six provinces in Canada. Their energy markets are already integrated and could be even more so in the future. However, a very limited understanding of the energy realities of this region constrains the scope of solutions that can be envisioned and does not foster an environment of cooperation. This report aims at contributing to a shared understanding of the energy systems in Northeastern North America. It presents facts on all aspects of the energy systems, from energy production to energy consumption, including data on storage, transmission and pipelines. Key institutions of each region are presented, as well as greenhouse gas data and emission reduction targets. Learn more & register here.
Beyond Zero Series: Decarbonizing Downtowns
When: Thursday, February 24, 9am–10:30am
Where: Online
Cost: Free
Join Building Energy Exchange, NYSERDA and the Department of State for a Beyond Zero series program focused on projects that decarbonize town centers, helping to transform them into economic and environmental recovery engines. Town centers have traditionally been the financial and communal heart of their respective regions, but long-term economic trends coupled with the suburbanization of the built environment have left many of these places struggling. Revitalizing downtowns offers a powerful tool to help reduce climate change impacts, improve public health outcomes, and rectify long term environmental injustice–with carbon neutral buildings acting as a critical spark. Learn more and register here.
Passive House Multi- Family Workshop: Lessons Learned from the First Generation of Projects
When: Thursday, February 24, 9am–12pm
Where: Online
Cost: Free
While multifamily Passive House projects are just getting off the ground in Connecticut, in other parts of the US and Canada they have been in existence for many years. This workshop explores lessons learned from many of these groundbreaking projects, showcasing what works, what doesn't, what challenges they faced, and what innovative solutions can be used in projects here. This event is free, thanks to the sponsors of Energize Connecticut, in partnership with Connecticut Passive House. Learn more and register here.

New York Build Expo 2022
When: Wednesday & Thursday, March 2 & 3
Where: New York, NY
Cost: Free
New York Build Expo 2022 (March 2-3, Javits Center), the largest tradeshow for construction and design in New York and the Tri-state area is back bigger than ever. This industry leading show is officially supported by the State of New York and is free to attend for all AEC professionals. The show features 300+ top-level speakers across several conference stages, AIA CES approved workshops, 250+ exhibitors, thousands of attendees, multiple exciting networking events including the largest gathering for the annual Diversity in Construction networking event, live entertainment, plus much more! Learn more and register for free here.

NEWIEE's 11th Annual Awards Gala
When: Thursday, April 28
Where: Boston, MA
Cost: $200-$300
New England Women in Energy and the Environment (NEWIEE)'s 11th Annual Awards Gala will celebrate the accomplishments of women in the energy and environment fields! The Gala draws professionals (women and men) from across New England for an inspirational evening celebrating four awardees, distinguished women from New England who have driven change. The evening includes networking opportunities both before and after a seated dinner and the Gala program. This is an evening not to be missed! Learn more and register here.
RESNET HERS Rater Training - Summer 2022
When: June 6–July 1
Where: Online
Cost: $2,595 (Funding Available)
NEHERS is pleased to offer high quality HERS rater training classes in the Northeast and has contracted with Performance Systems Development (PSD) to run our Summer 2022 training. We offer a comprehensive training package that includes everything a student needs to be well prepared to become a HERS rater. Our hybrid HERS rater training classes have an online component, which includes all of the building science theory, and a classroom component, which includes all of the hands-on practical training and testing that is necessary to pass the rater exams. Due to Covid-19, the classroom component will be conducted live over distance learning. Learn more...
New Issue of Passive House Accelerator Magazine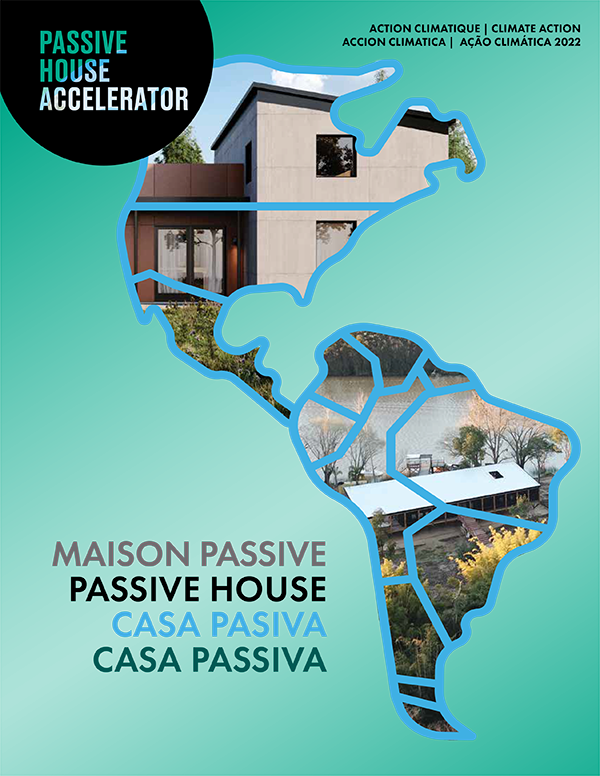 As we ring in 2022, the Passive House Accelerator magazine once again brings encouraging stories of project teams, policymakers, and manufacturers delivering climate-friendly building solutions. Passive House techniques—in concert with building electrification, clean energy, and low embodied carbon materials—chart a clear pathway toward climate action for the building sector. We hope the practical guidance found in these pages will inspire imitations galore. And, while we are always excited to document the increasing adoption of Passive House approaches, in this issue we are particularly thrilled to have an article by José Sosa Rueda covering the growth of Passive House in Latin America. Read the newest issue here.
New Issue of Green & Healthy Maine Homes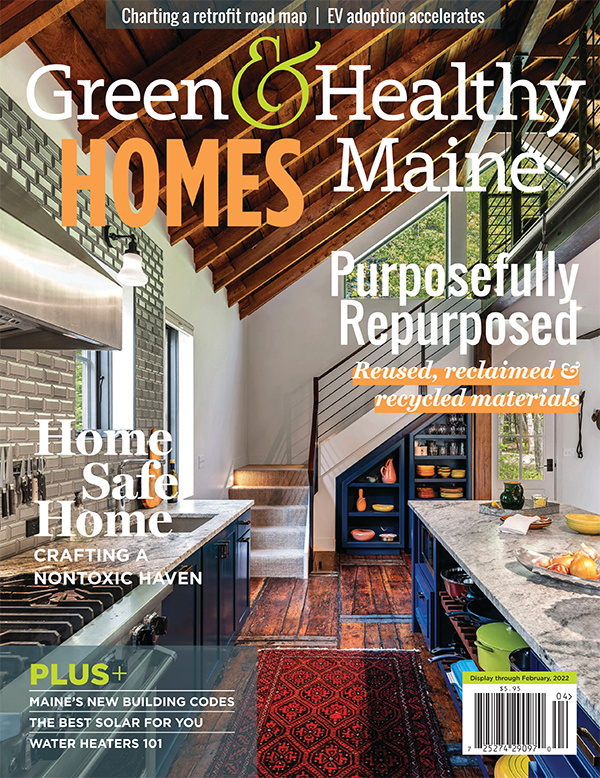 Green & Healthy Maine HOMES is a media company dedicated to inspiring real Maine homes that are as healthy for the people who live in them as they are for the planet. Through their website, bi-annual magazines, webinar series and monthly e-newsletters, Green & Healthy Maine HOMES shares expert advice, informative case studies, high performing home profiles, interviews with industry leaders and cutting-edge information about technologies for creating healthy, comfortable, affordable, efficient and sustainable homes. Learn more and subscribe here.
---