A Note From NESEA's Executive Director, Miriam Aylward:
By the time you receive the next installment of our monthly newsletter, election day will have passed. I'd like to take a moment to urge you to vote: vote early, vote safely, and vote with our shared vision in mind: a built environment in the Northeast that is climate neutral, adaptive and resilient, energy independent, architecturally inspiring, and supportive of connection and community.
In This Issue
Upcoming Pro Tours • Conference News • Other NESEA News • Jobs Board • Community News • Featured Benefit
---


Virtual Pro Tour:
North America's Largest Affordable Passive House
Friday, November 6, 12:30–2:30pm: This virtual Pro Tour will offer participants a behind-the-scenes look at one of NYC's most ambitious PHIUS+ projects: an innovative 15-story building providing 154 units of sustainable housing. NESEA is working with hosting firm and Passive House consultant and verifier Bright Power to offer this follow-up event to last year's sold out tour of this site.
Through a mix of presentation, video, and small group breakout rooms, we'll use a format that preserves the interactive, behind-the-scenes vibe that has made NESEA's Pro Tours so popular. Unlike a traditional webinar, attendees will come with their mics and cameras on: you'll be able to see and hear other attendees, ask content experts questions directly, and meet new people in the NESEA community.
Attendance is limited, and previous virtual tours sold out quickly, so register today. Please note: To receive member pricing, you must log in to your NESEA account.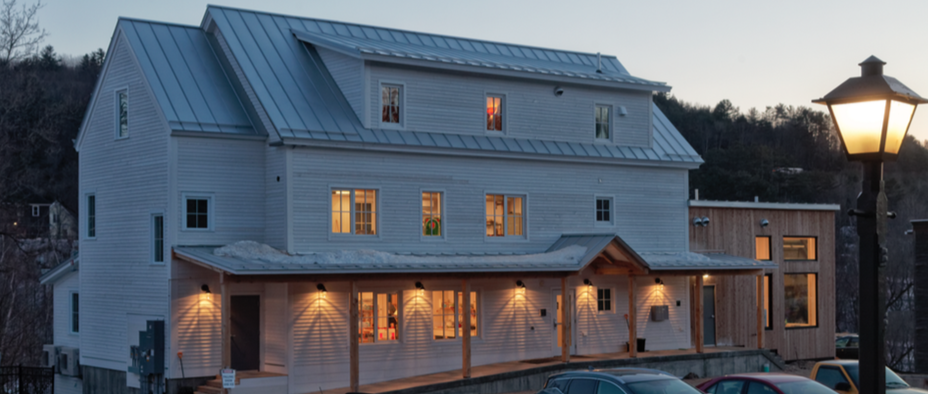 Virtual Pro Tour:
1890s Farmhouse to Super Insulated Commercial Space
Friday, November 13, 12:30–2:30pm: This virtual Pro Tour, hosted by Garland Mill, will take a deep dive into the conversion of a 1890s farmhouse that has been transformed into a super insulated building providing space for arts and education nonprofits in Littleton, NH. This 9000 ft² building now includes a 30 kilowatt array, sub metering with a proprietary app to allow the building owner to manage peak loads, and multi-split heat pumps that allow tenants to manage energy use remotely.
Just like an in-person Pro Tour, this event will mix presentation with small group conversation, giving participants the chance to meet project team members and one another. Attendance is limited, so don't wait to register. To receive member pricing, you must log in to your NESEA account.


Virtual Open Planning Meeting for BuildingEnergy Boston 2021
Share your vision for BuildingEnergy Boston 2021! Join Co-Chairs Stephanie Horowitz and Nick Falkoff on Tuesday, October 20, from 2pm–4pm in an interactive, virtual meeting where we'll begin planning for next year's event. We want to know:
What specific skills, knowledge, and solutions are needed by practitioners?
How can we accelerate the integration of climate change into all our practices?
How can we support diversity in the BuildingEnergy community?
You'll also learn how you can become a member of the formal Content Committee and help take next year's conference content to the next level. This meeting is free and open to all (NESEA Membership is not required). Register here.


BuildingEnergy NYC 2020 Recap
More than 400 attendees participated in 2 days of conference sessions, community events, product demonstrations, and interactive networking at BuildingEnergy NYC 2020 last month. If you weren't able to make it, we will be opening registration to recordings of both BuildingEnergy NYC and BuildingEnergy Boston soon.
Congratulations to the top 3 winners of our NYC conference engagement game, NESEA Lifetime Member Stephen Stuart, Brian Curley from CHA Architecture, and Stuart Faith from Bright Power. They will receive a full suite of merchandise from our new NESEA Merch Store!
Thank you to this year's sponsors, exhibitors, speakers, and Content Committee — especially to Conference Co-Chairs Andrea Mancino and Sara Bayer and to Vice-Chairs Adam Watson and Gwen McLaughlin — for helping to make this event possible.
---
Marc Rosenbaum & Chris Schaffner to Teach Online Courses
NESEA Members Marc Rosenbaum and Chris Schaffner will be teaching online building science courses this Fall through our partner, Heatspring. When you sign up using the links below, a portion of the proceeds will go towards NESEA.
Marc's Course:
Dates: October 12–December 20 (10 weeks)
Cost: $1,095
Chris's Course:
Dates: October 12–December 6 (8 weeks)
Cost: $795
Welcome to Our Newest Academic Member
To see all academic and business members, visit NESEA's Business Member Directory. Learn more about business and academic membership on our website.
Jobs Board & Resume Bank
NESEA's online Career Center is a resource for members who are looking for jobs or to recruit new talent. Members seeking jobs can post to our Resume Bank. Business and academic members can search the resume bank for new hires and post open positions on our Jobs Board. Here are a few of this month's featured jobs:
Technical Sales Representative at MaGrann Associates
DC Metro Area - MaGrann Associates, an innovative leader in energy efficiency engineering and green building consulting, is seeking a motivated, hardworking individual to join our Business Development Team. The position, based in the Washington DC area, requires excellent communication skills and relevant background experience in the real estate and/or energy efficiency sectors. Learn more...
Electrical Project Engineer at Petersen Engineering
Portsmouth, NH - Driven by a unique workplace culture and a passion for sustainability, Petersen Engineering, Inc. is a rapidly growing MEP/FP firm whose mission is Smart, Sustainable Design. As Project Engineer, you will support the engineering, design, drafting, production, and execution of project work. With support from Project Managers and Senior Engineers, you will independently lead and manage project engineering and production from the schematic design phase through the design development, Construction Document and Construction Administration phases. Learn more...
Lead Carpenter/Experienced Carpenter at Kolbert Building
Portland, ME - Kolbert Building needs an experienced carpenter who can grow into a lead, or someone with lead experience already. We are a small residential contractor, typically working within 15 minutes of Portland. We obsess over both carbon costs and building science. An active NESEA Business Member company, our owner is the facilitator of a decade-old Building Science Discussion Group and the originator of the Pretty Good House. Learn more...
---
Community News & Events
We'd like to help spread the word about upcoming member events and news items. Submit news items via this form or post an event to our community event calendar, and we'll try to include it in the next Members Monthly.

#EEDay2020
Where: Online
When: Wednesday, October 7, 10am–2pm
Cost: $15
Today is National #EnergyEfficiencyDay! Join Kinetic Communities Consulting and Women of Color/Collective of Sustainability for a half-day event celebrating policy, the built environment, and tools that energy efficiency provides to uplift Black and brown communities. This event will bring together energy efficiency leaders, climate warriors, and building science specialists who are spearheading a just transition with one goal in mind: achieving racial and social justice through climate action. Learn more...
RECONNECT 2020 Urban Green Virtual Gala
Where: Online
When: Thursday, October 8, 5pm–7pm
Cost: $250
Urban Green Council is bringing all the best aspects of their annual gala into your home including: a 30-minute live-streamed program featuring guest speaker Dan Doctoroff, Chairman and CEO of Sidewalk Labs; Urban Green party pack and cocktail kit delivered to your home; raffle; sneak peek of interesting trends and analysis for 10 years of NYC benchmarking data; and themed networking rooms facilitated by industry leaders. Learn more...
Deep Dive into Net Zero Water at the R.W. Kern Center
Where: Online
When: Thursday, October 15, 8am–10am
Cost: $35
The New England Living Building Collaborative is presenting a series of webinars on how water management, water efficiency, and water and energy nexus concepts can be incorporated into project planning, design, construction and operation. The series has a working title of: "Deep Dives in Design – Towards Net Zero Water". The first webinar of the series will focus on the R.W. Kern Center at Hampshire College as a case study. Learn more...

Webinar: Home Building Crossroads
Where: Online
When: Tuesday & Wednesday, October 20 & 21, 12pm–2pm
Cost: Free
Join Huber Engineered Woods to discuss the intersection of building science and building materials. Designed for builders, contractors, code officials, HERS raters, architects, and channel partners, Home Building Crossroads will offer four (4) health, safety, and wellness (HSW) CE learning units. The education event series, led by key industry thought leaders such as Peter Yost and Steve Baczek, will focus on how performance components of insulation, water management, air leakage, and HVAC relate to a whole as the building enclosure. Learn more...
Green Building United 2020 Sustainability Symposium
Where: Online
When: Thursday, October 22–Friday, October 23
Cost: $75–$150
Green Building United's Sustainability Symposium is a two-day virtual experience covering cutting edge green building and sustainability topics and industry best practices. Join us to celebrate this 10th Annual Conference as we hear from experts from across the region and beyond as they discuss their current work, opportunities for social, environmental, and economic impact, and challenges ahead in the sustainability field. Learn more...
Passive House Symposium 2020: Passive (House) as the Platform
Where: Online
When: Tuesday, October 27–Wednesday, October 28
Cost: $75-$125 (Early Bird)
The need for low-carbon, climate resilient, and healthy buildings is now more clear than ever and Passive House is the platform to build on for net-zero, resilient, healthy, and carbon-neutral communities. Join Passive House Massachusetts at this special two-day virtual symposium for deep-dives into all the ways Passive House sets the foundation for this new building movement. Learn more...
Building Tech Forum materialsCAN: Getting to Zero With Embodied Carbon
Where: Online
When: Wednesday, October 28, 4pm–6pm
Cost: $35
This forum, brought to you by Built Environment Plus, brings together members of the Materials Carbon Action Network to explore the future of embodied carbon. Through five-minute lightning talks, experts will discuss the future of materials that prioritize embodied carbon, important materials to consider, and other critical design challenges. Don't miss out on this opportunity to learn and to connect with the people behind the amazing innovations happening within our community! Learn more...

Proposal Deadline: Triple Decker Design Challenge
Where: Online
When: Friday, November 6, 5pm
MassCEC's Triple Decker Design Challenge is soliciting proposals from design/build firms, architects, and other qualified applicants to identify replicable and scalable all-electric triple-decker energy retrofit approaches. The program seeks to set a new and scalable standard for transitioning these iconic New England dwellings into high-performing, low-carbon buildings. MassCEC will be awarding 9 winning submissions, ranging from $15,000 to $25,000, with a $10,000 People's Choice Award. Student teams are invited to compete for a winning prize of $5,000. Learn more...
Sustainable Home Tour 2020
Where: Online
When: Saturday, November 7, 10am–11:30am
Cost: Free (Donations Encouraged)
SEON's Sustainable Home Tour showcases homes and the design/construction teams whose work demonstrates a commitment to high performance building, sustainable materials, durability, indoor air quality, and renewable energy. It's a "Show & Tell" opportunity where you'll be taken on a virtual tour of the home and sustainable features will be highlighted. Learn about the technologies and processes that make these homes sustainable. There will be an opportunity to ask questions of the builders. Learn more...
Seeking NESEA Members for Wellesley Climate Action
Architect, activist, and NESEA Lifetime Member Ellen Watts is seeking other NESEA Members who live in the Town of Wellesley, MA to help advance sustainable policy initiatives, project review and public education. If you are interested, please contact Ellen at ellenawatts@gmail.com for details.
---

Participate on Member Committees
The content of NESEA's programs is driven by volunteer committees of NESEA Members. These committees perform a variety of functions, from selecting projects to be featured in our BuildingEnergy Pro Tour series to developing conference sessions and selecting speakers. You can learn more about NESEA's Member Committees here.
We will soon be seeking members to join the BuildingEnergy Boston Content Committee, which is responsible for selecting content for BuildingEnergy Boston through peer review of submitted proposals and for developing proposals into sessions. If you are interested in serving on this committee, be sure to attend the BuildingEnergy Boston Open Planning Meeting on October 20.
---