She Who Constructs, A Passive House Accelerator Summit
Where: Online
When: Monday, March 8, 7pm
Cost: Free
Join Passive House Accelerator on March 8th, International Women's/Womxn's day, in a discussion of Passive House construction careers and gender as six panelists present on their construction pathways, mentoring experiences, and how Passive House and technological changes are affecting their careers. Learn more...
Ventilation Symposium
Where: Online
When: Wednesday, March 10, 2pm–5:30pm
Cost: $10 (free for NAPHN Members)
Why prioritize ventilation? Despite the pandemic, in designing and building high-performance buildings, ventilation is often an underappreciated component. During NAPHN's Ventilation Symposium, experts will unravel the testing procedures, implications, long-term performance - the where, what, why, and more! Learn more...
Online Course with Marc Rosenbaum: Zero Net Energy Buildings
Where: Online
When: March 15–May 23
Cost: $1,095
Gain a comprehensive understanding of all of the key components of a zero net energy building—envelope, systems, and renewable energy sources—and how they fit together to confidently create your own designs. During the course, you'll learn key pitfalls to avoid and get numerical guidelines on sizing peak heat loss, glazing amounts, and solar electric systems. Marc Rosenbaum, your instructor, is one of the most popular and best-reviewed speakers at BuildingEnergy Boston every year! He's an engaging speaker, extremely honest, meticulously detailed, and curious by nature. Learn more...
Certified Passive House Designer/Consultant Training
Where: Online
When: March 24–25 & March 31–April 2
Cost: $1,650-$2,150
Join NAPHN for their Certified Passive House Designer/Consultant course, the premier training program for Passive House building professionals. Including 5 days of virtual, in-class instruction, 7 additional e-learning modules, and access to the current version of the PHPP energy model. Receive a 5-year registration as an internationally accredited Certified Passive House Designer or Consultant after passing the exam. Learn more...
Power of Place: Climate Action & Justice in the Built Environment
Where: Online
When: Thursday & Friday, March 25 & 26
Cost: $80 (sliding scale)
Northeast Summit for a Sustainable Built Environment is a biennial northeast regional summit meant to include a larger community of building professionals, owners, academics, policymakers, advocates and students in a conversation about sustainability in the built environment. NESSBE organizers are the Connecticut Green Building Council and the Connecticut Living Future Collaborative. Learn more...
Triple Decker Design Challenge Winners Announced
Triple Deckers are one of the most predominant, widely recognized, iconic residential building typologies in MA. Tens of thousands of triple deckers were built during the late 19th and early 20th centuries across New England as an economic means of housing the thousands of newly-arrived immigrant workers who filled the factories of the area. Many are owner occupied, some are investor owned, and many have been converted to condominiums. But all share building retrofit challenges and opportunities.
The Triple Decker Design Challenge harnessed building energy retrofit technical expertise and design excellence to help identify scalable renovation and electrification strategies that will ultimately transform MA's built environment. MassCEC has now announced the winners of the challenge. You can see the winning designs here.
Passive House Accelerator Magazine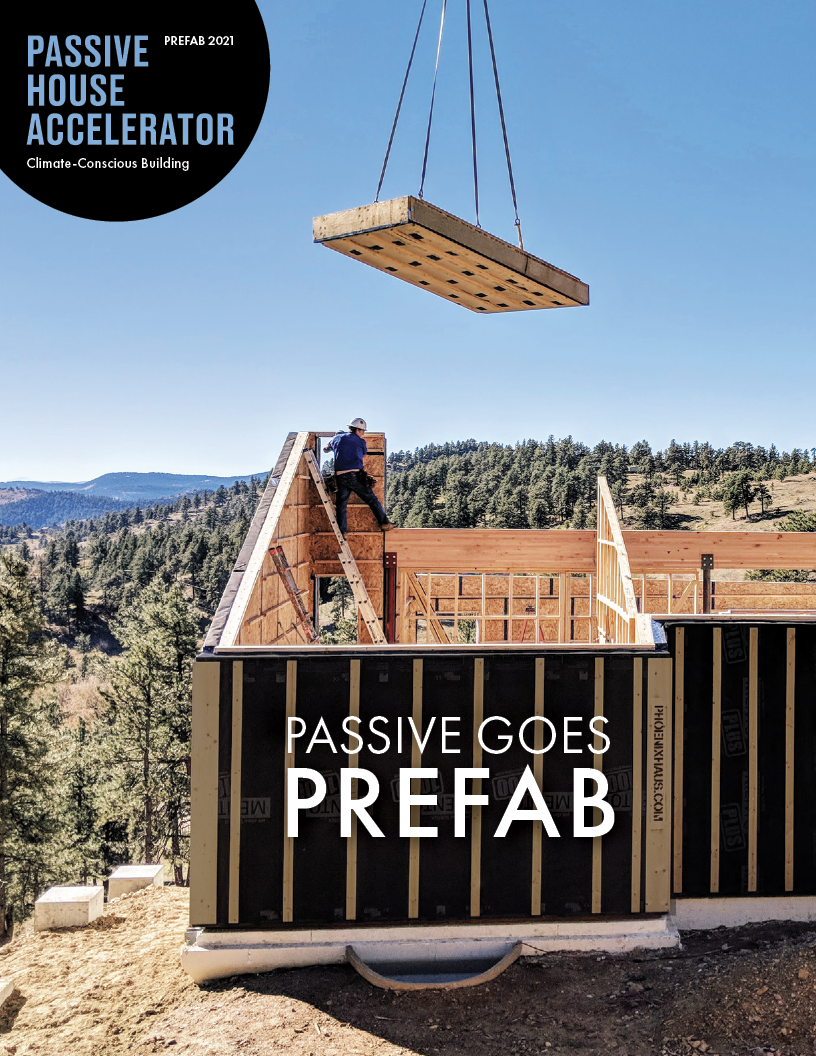 Passive House Buildings magazine is now Passive House Accelerator magazine and is available for download on the Passive House Accelerator website. The newest issue, Passive Goes Prefab, covers the tremendous growth in recent years of the manufacturing of specialized prefabricated assemblies for Passive House buildings. The use of prefabricated elements can bring many benefits, from more predictable quality and cost to less waste to shorter construction times. Read all about which North American manufacturing companies are stepping up to meet the demand for these high-performance products.
Sign-On Letter for Federal Appropriations
E4TheFuture is gathering signatures for a constituent sign-on letter on appropriations for Department of Energy programs related to energy efficiency. The energy efficiency industry has been hit hard by COVID-19. Programs are more important now than ever before. Robust funding for efficiency programs is vital for energy savings, improved health, and to restore economic vitality to communities.
Please take a couple of minutes to review and add your signature to this letter requesting support including crucial programmatic funding for:
Home Performance with Energy Star
Weatherization Assistance Program
State Energy Program (all states)
The letter is signed by INDIVIDUALS. It addresses Congressional chairs and ranking members who serve on the Appropriations Committee. Let them know this funding is essential for us to serve customers and to spur good jobs nationwide.
New Issue of Fine Homebuilding Magazine
Fine Homebuilding is excited to offer NESEA Members a digital edition of FHB's magazine. Fine Homebuilding is committed to providing practitioners with the latest information on building residential homes, with an emphasis on craftsmanship in every issue. You can read the most current February/March issue here.