Rhode Island Net Zero Pro Tour
Location:
Tiverton and Jamestown
,
RI
CEU Information:
2.5 AIA Learning Units Available
On Friday, November 7, 2014 NESEA hosted a BuildingEnergy Pro Tour in Rhode Island. 46 professionals joined NESEA on tours of two homes in Jamestown and Tiverton, designed to be zero energy and net zero, respectively.
We started our tour on Narragansett's West Bay in Tiverton with Mike Cabral and Stu Flanagan of Newport Renewables. This single family home was designed to achieve net zero status with a 12kW solar array that powers the geothermal heating system and the plug loads for the house. After spending an hour checking out and touring this tight, efficient house and its amazing view, the tour headed to our second site. At the second site, Christian Belden, project manager at Church Community Housing Corporation and builder at Sandywoods, an intentional community, led us through the construction site of one of their two net zero homes in-progress. Following a reception with great snacks provided by National Grid and stimulating conversation from the attending professionals, Christian gave a presentation on what the finished homes would look like and how they were going to be priced competitively with non net zero homes built on spec in the area.
See below for a more complete description of the schedule and sites.
| | |
| --- | --- |
| 1:00 - 1:15 PM | Gather at Site 2 and get on the bus |
| 1:15 - 2:00 PM | Travel to Site 1 on the bus |
| 2:00 - 3:00 PM | Tour of Site 1 |
| 3:00 - 4:00 PM | Travel to Site 2 on the bus |
| 4:00 - 5:00 PM | Tour and workshop at Site 2 |
| 5:00 - 6:00 PM | Reception with light refreshments, Q&A |
Site 1 - Renewable energy is complex, NPTRE® makes it easy
Jamestown, RI
Single family home, under construction with the goal of being certified as a zero energy home by the DOE
Located on Narragansett Bay's west passage
Rough Blower door testing - 1.8ACH50 @ 1080CFM
Super insulated Thermally isolated building envelope
Insulated Concrete Form foundation
12kW solar array generates enough power to meet annual energy demand, including HVAC, lighting, and plug loads
Architect & builder: Newport Renewables
Tour guide: Mike Cabral, trained as Civil Engineer Wentworth Institute of Technology, co-founder of Newport Renewables
Site 2 - Net Zero Homes Under Construction at Unique Intentional Community
Tiverton, RI
Two net zero homes in progress, designed by Northeast Collaborative Architects and 20 minutes from Providence and Newport
Homes built on spec to be priced to compete with non net zero spec homes
Learned about Sandywoods, a unique community dedicated to promoting and supporting the arts, sustainable agriculture, affordable housing, and land stewardship
Sandywoods is comprised of 22 single-family house lots and 50 apartment units designed by Union Studio Architects
Sandywoods has a community-owned 275kWh wind turbine on site that provides approximately 50% of its annual electricity needs
Tour guide: Christian Belden, Senior Project Manager at Church Community Housing Corporation and builder at Sandywoods
Parking and Final Reception Site - Sandywoods Center for the Arts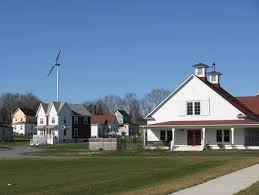 Parking, bus pick-up and drop-off, a brief workshop, and the final Q&A session and reception took place at the newly constructed Sandywoods Center for the Arts, which features a large hall with a cathedral ceiling, bamboo floors, and lots of natural light.
The SCA, an intimate 150-seat venue with near-perfect natural acoustics, is a hub of activity and is located in Tiverton, RI (exact address will be provided in confirmation email). With its entertainment license in hand, the SCA hosts a great concert lineup, with live music offered every weekend throughout the year. The SCA is also home to monthly classes, workshops, occasional live theatre, and a seasonal farmers market.