Leave Your Legacy
As someone who loves NESEA, you have the power to leave a lasting legacy in support of a built environment in the Northeast that is climate neutral, adaptive and resilient, energy independent, architecturally inspiring, and supportive of connection and community– today, tomorrow, and beyond. No matter your means or stage in life, by including NESEA in your plans, you help sustain our mission to advance the adoption of sustainable energy practices in the built environment by cultivating a community where practitioners share, collaborate and learn and carry it forward for years to come.
The Endowment Fund
Unless otherwise specified, all planned gifts support NESEA's Endowment Fund, which is designed to provide lasting support for program development that supports NESEA's vision, especially for programs that otherwise would not have funding. Examples of how it could be used might include establishing strategic scholarships, building new partnerships, and welcoming internationally renowned speakers to our conferences. The Board of Directors has established a policy by which only a portion of the dividends may be used in a given year with the intention of securing the Endowment Fund in perpetuity as a sustainable financial asset for the organization. The Fund is managed by JPS Global Investments, and the account is focused on a stock of green companies judged by the advisor to have a net positive effect on the environment.
The Campaign: 5 x 50
Longtime NESEA Member Bruce Coldham is among the first people to make a commitment to our planned giving campaign, which has a goal of securing $5 million in commitments to the endowment fund by NESEA's 50th birthday in 2025. This amount would allow us to support program development in perpetuity. Read below to learn more about why Bruce is choosing to include NESEA in his legacy.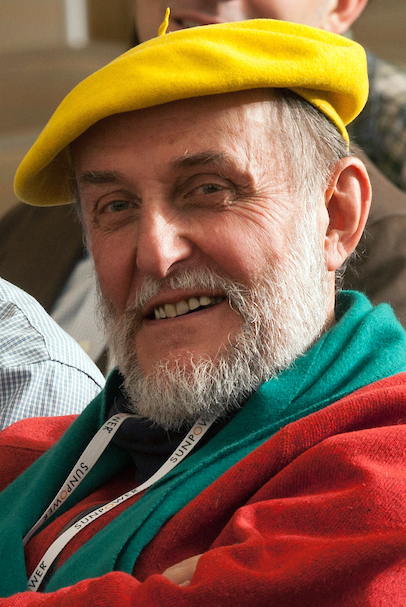 "For a couple of years now (at least) I have been thinking that my last hurrah for NESEA would be to help establish an Endowment Fund, and that my contribution would be to talk to all of my NESEA elder colleague/friends about making a provision in their wills to leave some amount to the organization. But first, I have to make my own planned giving commitment. In my case, we decided to gift a certain percentage of our total assets to NESEA, which we didn't realize was an option before exploring a legacy gift. That allows for Mary and/or me secure long-term care in nursing home care without our kids fearing that we will run out because we committed funds to a charity of our choosing. That makes it comfortable for my family and also gives NESEA a sense of what might be coming its way, and therefore enable it to chart its future planning accordingly.
From my standpoint I am thinking that all that effort that we put in to building a bridge to European practice in the 90's and aughts (when Europe had so much to offer) would have been so much easier if we had had something like this — an unrestricted revenue inflow that could have been committed to getting luminaries like Joachim Eble to our conferences. Having a fund that can be regularly and reliably deployed to bring inspiring people into our midst is unimaginably valuable to me. I also recall that, as Board Chair, we allocated $25K for program development (for a year or two only), but something like that could be a recurrent feature of the operational budget with an Endowment Fund support. We could have a standing number of conference seats offered to student practitioners, and we could fund traveling scholarships. And that's just from my own experience — before the more thoughtful among us chime in. I had a number of $5 million as a Fund goal probably because it rings with 50 years. That is a very large number, but larger numbers inspire, and (conservatively invested) it would yield an annual inflow of around $200,000. Imagine what could be done with that."
Start a Conversation
To start a conversation about making a planned gift to NESEA, please contact Executive Director Florence MacGregor at fmacgregor@nesea.org or (413) 774-6051 ext. 10. Everyone has a different set of circumstances and different goals in planning their legacy, and there are many options available for planned giving.
Options for Planning Your Legacy
Below are two of the most common ways to leave a legacy gift, although this is by no means an exhaustive list. We appreciate your generosity and consideration, and hope that viewing these options is helpful to your planning. If you have any questions, or would like to discuss these options, please contact Executive Director Florence MacGregor at fmacgregor@nesea.org or (414) 774-6051 ext.10.
1. Gifts by Will or Trust
A charitable gift in either a fixed or percentage amount from your estate is a favored method of giving that enables you to achieve your financial goals and benefit NESEA. No other planned gift is as simple to make or as easy to change should you ever need the assets during your lifetime.
A gift by will or trust may be right for you if:
You want to make a gift to NESEA.
You want the flexibility to change your mind.
You want continued access to your wealth, should you need it.
You are concerned about outliving your resources.
2. Beneficiary Designations
One of the simplest ways to make a gift to NESEA is to name us in your assets. You can specify the individuals and charities you want to support and you can also specify the percentage of the assets you want each beneficiary to receive. It's literally as easy as filling out a form.
Beneficiary designations are available when giving the following assets:
Retirement Assets

An alternative to a bequest gift is to designate NESEA as the beneficiary of your retirement assets. This gift is simple because you can control the transfer of these assets at your death without changing your will or living trust. All you need to do is request (and complete) a new beneficiary designation form from your plan administrator. There is no need to modify your will or living trust.
A gift of retirement assets has the added advantage of being among the most tax-wise ways to make an estate gift. This is because your retirement assets, if left to individuals, will be subject to income tax when they receive distributions and, in the case of most non-spouses, those distributions must take place within 10 years, potentially pushing designated beneficiaries into higher tax brackets. With a gift to a non-profit such as NESEA, 100 percent of the funds are available for its charitable purposes. If you want to remember us in your estate plan, it is often better to leave other types of assets – cash, securities, real estate – to your heirs and give the more heavily taxed retirement asset to NESEA.

Life Insurance

Life Insurance policies can also be used to make a gift to NESEA. Complete and return to the insurance company a form designating that NESEA receives all or a portion of the death benefit associated with your life insurance policy. As an alternative to naming NESEA as the beneficiary, you can transfer ownership of the policy. Transferring ownership results in an immediate income tax charitable deduction and potential income tax savings in the year of the gift.

Other Assets

Commercial Annuity Contracts: a commercial annuity will sometimes have a remaining value at the end of the annuitant's lifetime. You can name NESEA to receive all or part of this amount by designating it as a beneficiary (sole or partial) on the appropriate form from the insurance company.
Bank Accounts: you can instruct your bank to pay NESEA all or a portion of what remains in a checking or savings account. Your bank can provide you with the appropriate beneficiary designation form.
Investment Accounts: you can instruct your investment company to transfer to NESEA some or all investments held in the account at the time of your passing. Your broker or agent can let you know the process for doing this – it may be as simple as adding "T.O.D. to NESEA" after your name on the account.
Make A Gift
When you are ready to make your planned commitment to NESEA's Endowment Fund, you can do so here. Thank you for your support of NESEA and our shared vision! If you would prefer to use a fillable PDF to plan your donation, please follow this link to download one. 
 
(you must log in to access the form)
Our Mission
NESEA advances sustainability practices in the built environment by cultivating a cross-disciplinary community where practitioners are encouraged to share, collaborate and learn.