Coming to BuildingEnergy Boston? Download Guidebook Now!

Before You Arrive:  
Install the BuildingEnergy Guidebook on your Smartphone!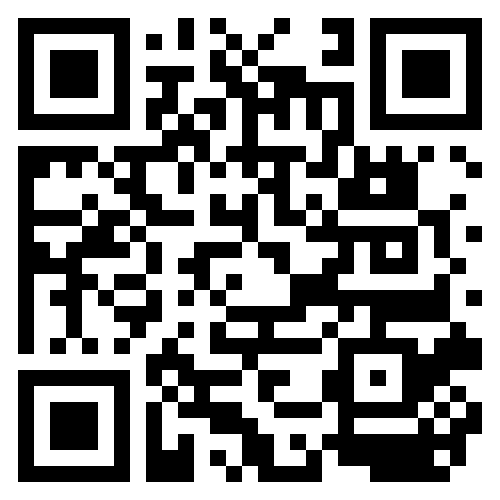 The BuildingEnergy Boston Conference relies on the Guidebook App to orient you to our schedule of events, community, locations, and networking opportunities, and to provide quick feedback to inform next year's conference.
Guidebook is available free for both  iOS and Android. Because WiFi will be spotty at Seaport, please install Guidebook ahead of time on your smartphone, and download our program by searching for "BuildingEnergy 16".   Quick install, user and advanced guides are attached below. 
Use Guidebook to create your own custom schedule (see who else is planning to attend your chosen sessions) and to give NESEA quick feedback right after each session.  When you browse the schedule (3rd icon from top) you can add events to "My Schedule" (6th icon).
Even if you are not attending the conference, you can still use the networking features of Guidebook (message attendees, exchange contact cards). To do that, Scroll down and tap the "Attendees" menu item, then tap "Check In to this Guide" at the bottom. It will turn blue and say "Attending" when you have checked in. You'll be prompted to add your photo to your profile, to help people whom you've met for the first time connect faces and names. Then see who else is checked in.
In addition to session and conference surveys, our Guidebook offers the following features:

To find the session evaluations, view a session you just attended on Guidebook and find "Forms" under the session description: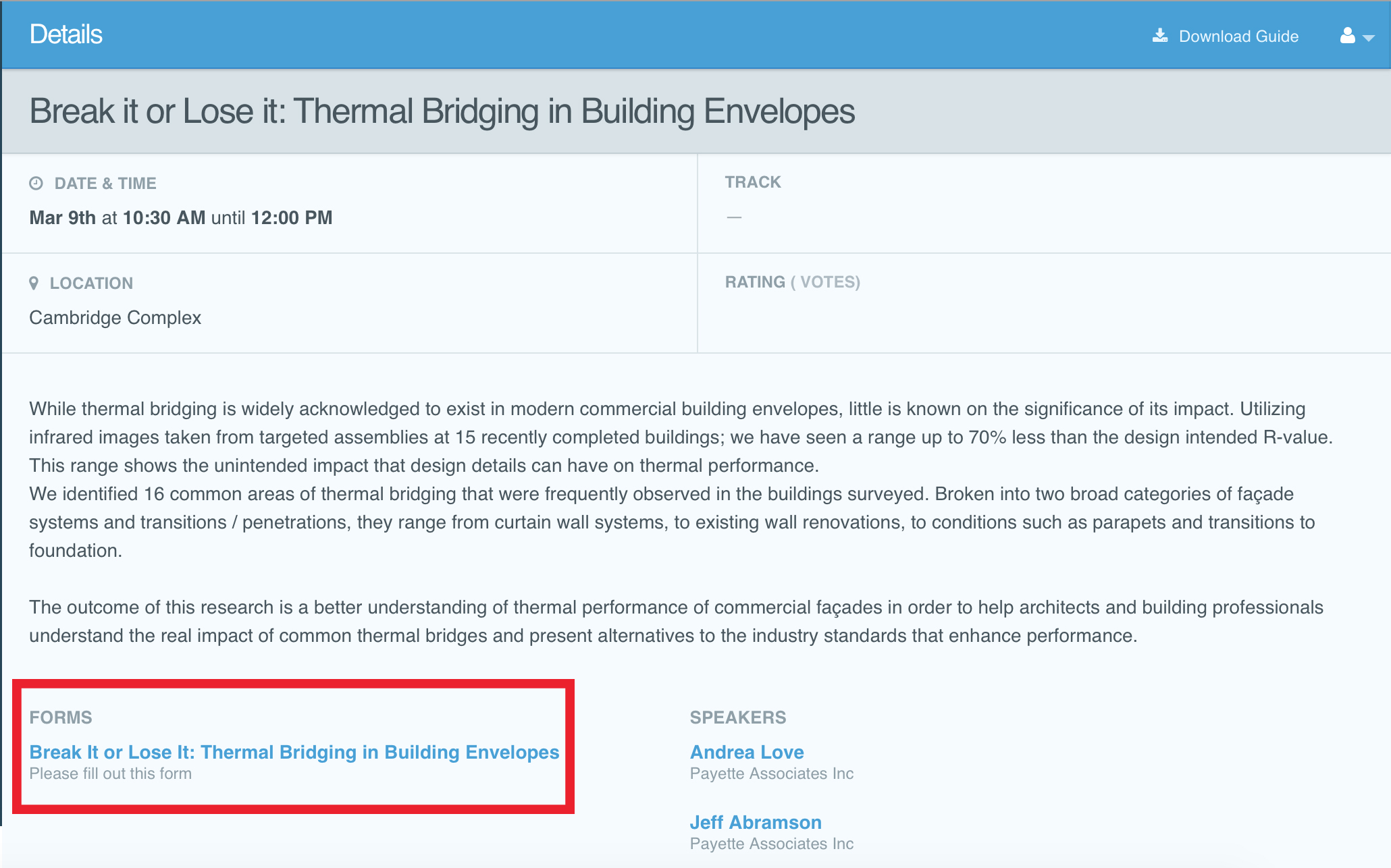 When you click the Evaluation Form link, you will see a quick survey like this: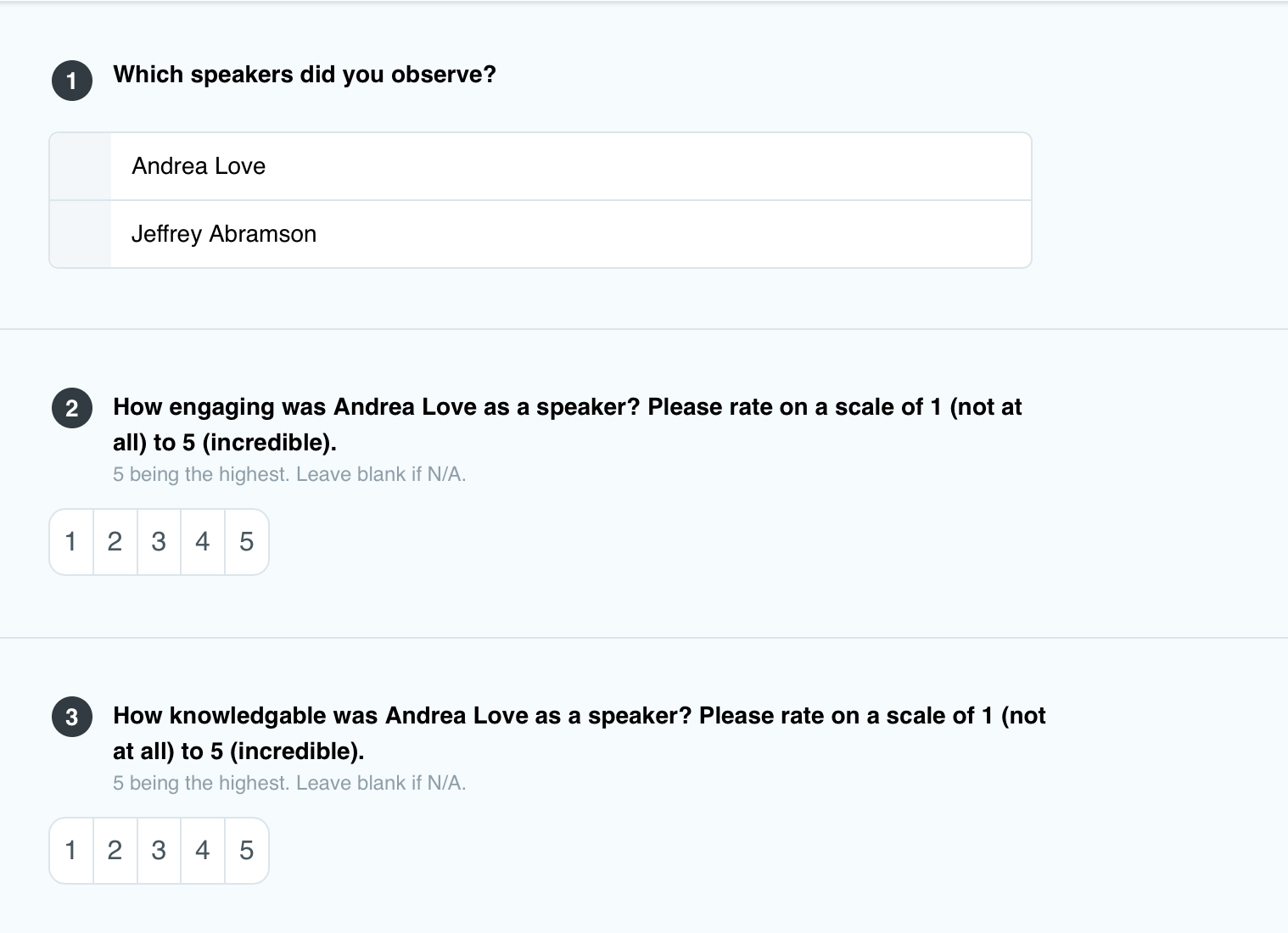 Please complete it immediately after attending each session.  Remember that WiFi will be spotty, so use your Cellular Data to be sure of no delays.  
Thank you for making BuildingEnergy Boston 2017 EVEN BETTER!
Our Mission
NESEA advances sustainability practices in the built environment by cultivating a cross-disciplinary community where practitioners are encouraged to share, collaborate and learn.