BuildingEnergy NYC 2018 Trade Show
Interested in exhibiting at BuildingEnergy NYC? See NESEA's Exhibitor Package for pricing and details, or contact Devan Folts at dfolts@nesea.org or 413-774-6051 ext. 25. Current exhibitors should visit the Exhibitor FAQ page for travel information, display specifications, and more.
This map was last updated on September 27, 2018. Blue tables are currently reserved. Green tables are reserved for sponsors.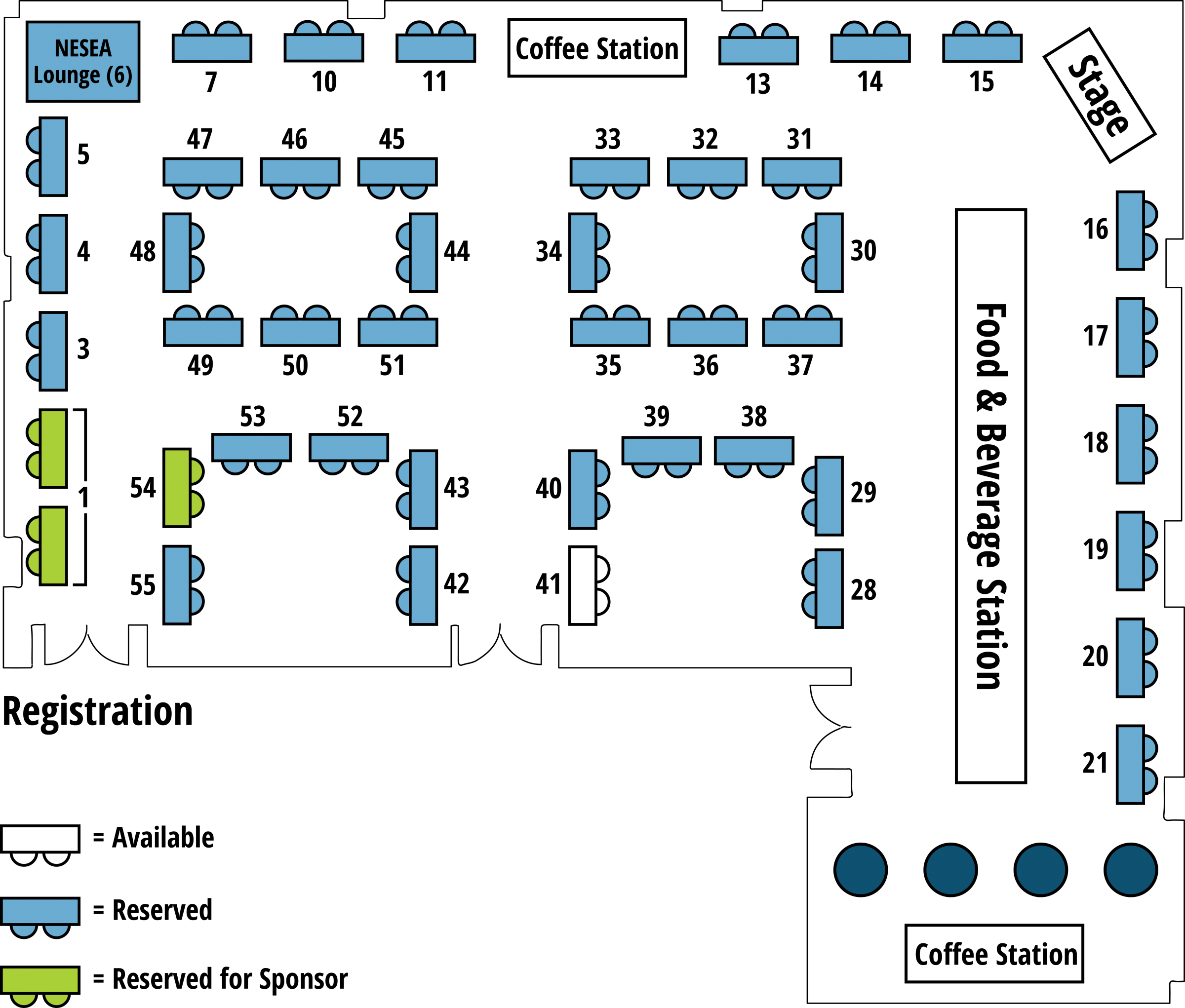 | Table Number | Name | Social |
| --- | --- | --- |
| 01 | Con Edison | |
| 03 | Kampmann | |
| 04 | IPKeys | |
| 05 | Broan-NuTone LLC | |
| 06 | Northeast Sustainable Energy Association (NESEA) | |
| 07 | PEMCO | |
| 10 | Zehnder America, Inc. | |
| 11 | Whole Forest | |
| 13 | Johnson Controls, Inc. | |
| 14 | 475 High Performance Building Supply | |
| 15 | European Architectural Supply (EAS) | |
| 16 | ROCKWOOL North America | |
| 17 | Cascadia Windows & Doors | |
| 18 | Ventacity Systems, Inc. | |
| 19 | Fujitsu General America, Inc. | |
| 20 | Co-Energy America | |
| 21 | Heat-Timer Corporation | |
| 28 | RSP Systems | |
| 29 | NORESCO | |
| 30 | Retrotec, Inc. | |
| 31 | Lifebreath | |
| 32 | LG Electronics | |
| 33 | Thermal Systems Associates | |
| 34 | Kingspan Insulation LLC | |
| 35 | Dalkia Aegis, EDF Group | |
| 36 | Phius | |
| 37 | AeroBarrier | |
| 38 | Huber Engineered Woods | |
| 39 | Legend Power Systems | |
| 40 | Yaro Windows + Doors | |
| 43 | Solar Liberty | |
| 44 | Mitsubishi Electric Trane HVAC US (METUS) | |
| 45 | Blauberg North America | |
| 46 | NYC Retrofit Accelerator | |
| 47 | NY Passive House, Inc. | |
| 48 | Quadlogic Controls | |
| 49 | Tecogen, Inc. | |
| 50 | Association for Energy Affordability (AEA), Inc. | |
| 51 | Swegon North America | |
| 52 | Bright Power | |
| 53 | Halfen USA, Inc. | |
| 54 | NYSERDA | |
| 55 | Embue | |