BuildingEnergy Boston 2018 Trade Show
Interested in exhibiting at BuildingEnergy Boston? See NESEA's Exhibitor Package for pricing and details, or contact Devan Folts at dfolts@nesea.org or 413-774-6051 ext. 25. Current exhibitors should also refer to the Exhibitor FAQ page for specific show information.
This map was last updated on March 1, 2018. Blue and green tables are currently reserved.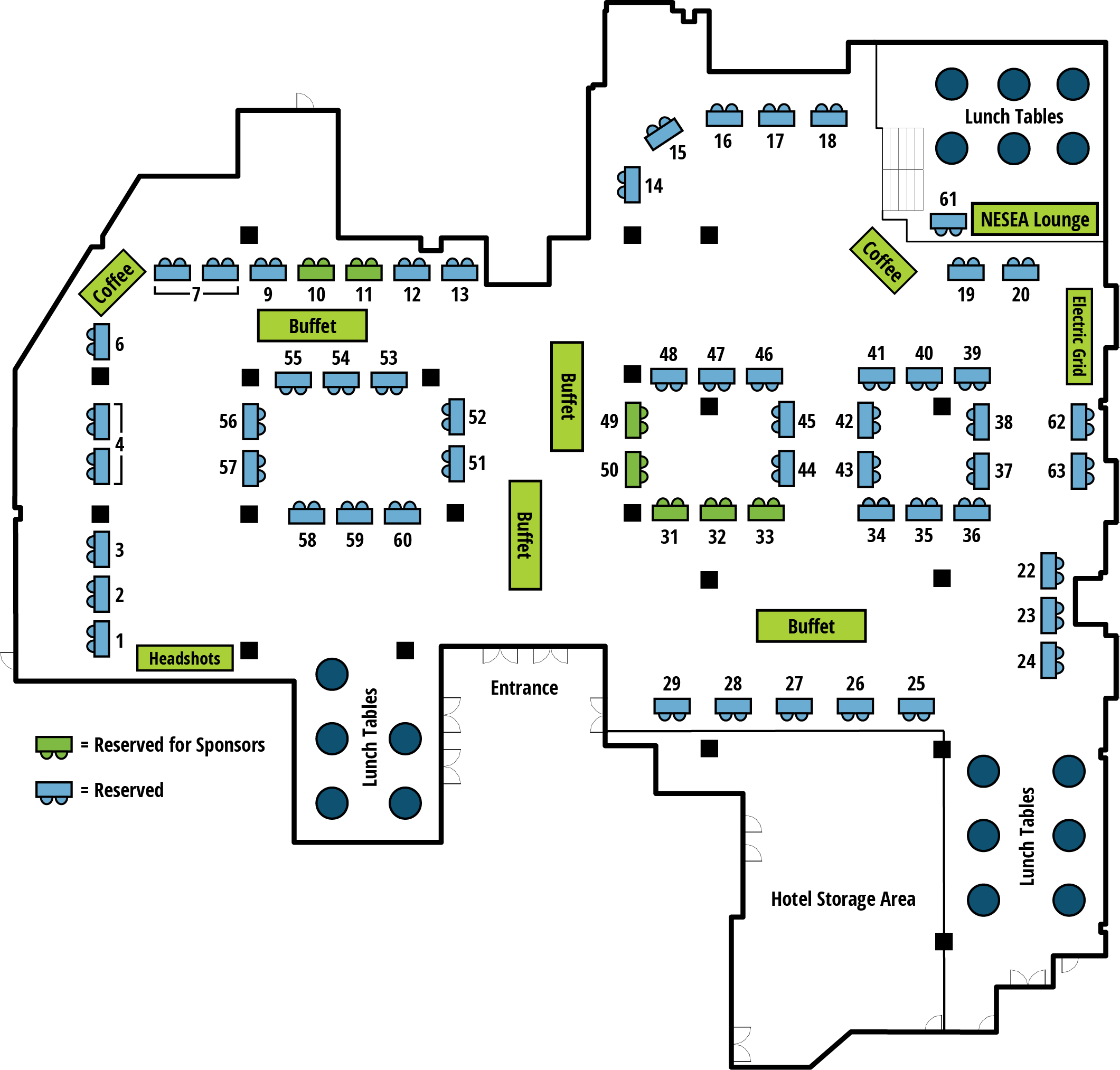 | Booth Number | Name | Social |
| --- | --- | --- |
| 01 | Pinnacle Window Solutions | |
| 02 | ROCKWOOL North America | |
| 03 | Broan-NuTone LLC | |
| 04 | Schöck North America | |
| 06 | Zehnder America, Inc. | |
| 07 | European Architectural Supply (EAS) | |
| 09 | Stephen Turner Inc. | |
| 10 | Fujitsu General America, Inc. | |
| 11 | Ventacity Systems, Inc. | |
| 12 | New England Homes/ Preferred Building Systems | |
| 13 | Eco Supply Center | |
| 14 | Kampmann | |
| 15 | Minotair | |
| 16 | e-Roof Metal Systems, LLC | |
| 17 | Daikin Comfort, Inc. | |
| 18 | RES Solar | |
| 19 | Build Equinox | |
| 20 | South County Post & Beam | |
| 22 | SunBug Solar | |
| 23 | Whole Forest | |
| 24 | Auburndale Builders | |
| 25 | Carlsen Systems | |
| 26 | Sustainable Comfort, Inc. | |
| 27 | PROSOCO, Inc. | |
| 28 | Foard Panel, Inc. | |
| 29 | Phius | |
| 31 | Massachusetts Clean Energy Center (MassCEC) | |
| 32 | Helix Rebar / ICF Panels | |
| 32 | Helix Rebar / ICF Panels | |
| 33 | Mitsubishi Electric Trane HVAC US (METUS) | |
| 34 | Energy Federation, Inc. (EFI) | |
| 35 | Lotik Labs | |
| 36 | Icynene Spray Foam | |
| 37 | Boston Architectural College | |
| 39 | Runwise | |
| 41 | Hannah Solar | |
| 42 | Cotuit Solar, LLC | |
| 43 | AeroBarrier | |
| 44 | WaterFurnace International, Inc. | |
| 45 | Yaro Windows + Doors | |
| 46 | Fraunhofer Center for Sustainable Energy Systems | |
| 47 | Global Wholesale Supply | |
| 48 | Cascadia Windows & Doors | |
| 49 | Bensonwood | |
| 50 | Unity Homes | |
| 51 | Dalkia Aegis, EDF Group | |
| 52 | 475 High Performance Building Supply | |
| 53 | EDOS Manufacturers' Reps. Inc. | |
| 54 | Sublime Windows, LLC | |
| 55 | BlueWave | |
| 56 | Heat-Timer Corporation | |
| 57 | Accurate Dorwin | |
| 58 | Huber Engineered Woods | |
| 59 | SIGA | |
| 60 | Retrotec, Inc. | |
| 61 | VSECU | |
| 62 | PassivhausMAINE | |
| 63 | Built Environment Plus (BE+) | |