Deep Energy Retrofit in Springfield, MA
Event Date:
Monday, September 16, 2013
In 2010, a dilapidated 100-year old brick warehouse  sat at the corner Warwick St. in Springfield, MA.  After a deep energy retrofit, the building is now home to EcoBuilding
Bargains, New England's largest used and surplus building materials store, and uses 75% less energy.
The deep energy retrofit was undertaken as an extension of EcoBuilding Bargains' mission and used cutting edge building technology.  The store sells used and surplus building materials donated by area contractors and retailers at low cost to help people fix up their homes affordably and keep valuable materials out of the landfill.
Attendees joined Steve Ferrari, the retrofit's project manager, as he told the story of the concepts and design process through to the final product.  He discussed the systems the team chose and how those systems work independently and synergistically with each other, including the exterior insulation and the infrared heating system.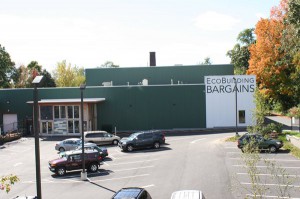 Tour goers learned about how engineers and contractors transformed the building through shell, HVAC system and lighting improvements that produced a 27% kWh savings and 85% therm savings in 2012. A new PV system added in April 2013 produces, 156,800 kWh a year – over 95% of the building's electric use.                    
EcoBuilding Bargains is an enterprise of the Center for EcoTechnology, a 35-year-old non-profit that helps individuals and businesses carry out their daily activities with less environmental impact by providing practical solutions that save energy, materials and money. The EcoBuilding Bargains building serves as a classroom and model for reuse and green building.