First Rhode Island Passive House Pro Tour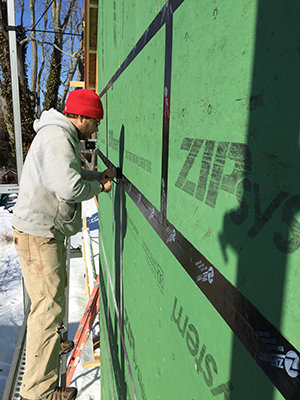 Over 50 builders, students, architects, engineers, contractors and real estate professionals joined NESEA on a Pro Tour of the first Passive House in Rhode Island on Friday, April 17. The tour was hosted by builder Steve DeMetrick, and led by Steve DeMetrick, the architect Steve Baczek, the Passive House rater John Rodenhizer and the Passive House consultant Dan Roy.
The event concluded with a workshop entitled "Demystifying Real Estate Appraisals." Project homeowner and commercial real estate appraiser Brad Hevenor led a frank, honest discussion about teh real estate appraisal process and the state of the high performance building appraisal profession. Learn how to proactively collect the information necessary to get your projects financed, and how to more effectively communicate with appraisers.
2.5 AIA LU/HSW
Member registration: $25 | Non-member registration: $35
Location: Wakefield, RI
Project Details:
Home in the process of PHIUS certification rating

This will be the first PHIUS certified Passive House in Rhode Island

Market rate construction

Builder friendly construction

Simple, replicable construction details

Promoting high performance building in the real estate and appraisal industry

Committed team in all of the above  - architect, builder, homeowner
Schedule:
| | |
| --- | --- |
| 1:00 PM | Meet and check in (University of Rhode Island in Kingston) |
| 1:30 PM | Welcome by NESEA, introduction of the hosts, brief overview of the project |
| 1:45 PM | Travel to site |
| 2:00 PM | Tour of site |
| 3:30 PM | Travel back to meeting point (University of Rhode Island in Kingston) |
| 4:00 PM | Reception with light refreshments |
| 4:30 PM | Workshop: Demystifying High Performance Building Appraisals |
| 5:30 PM | Event concludes |