Pro Tour of Two Renewable Energy-Powered Houses in NJ
Friday, September 4, 2015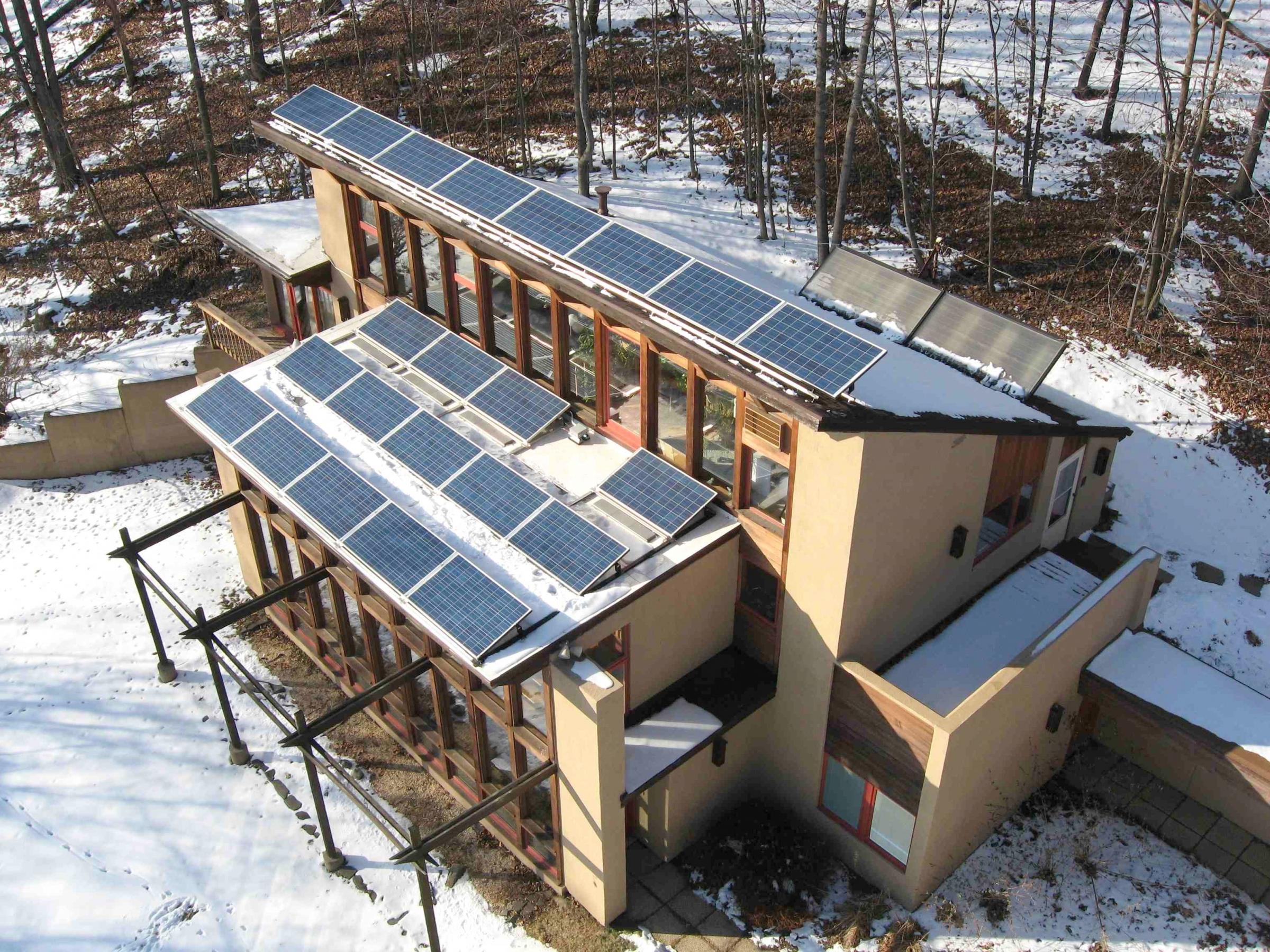 This Pro Tour visited two sites located in Augusta and Lafayette, NJ, both of them residential homes. Each of these houses uses combinations of both passive and active renewable energy systems, including wind power, and most notably solar power.
The tour of the first site was given by architect and homeowner Alan Spector. He presented his passive solar home which has a two-story sunspace, is partially earth sheltered, and has solar hot water and PV systems which account for 75% of energy savings. This house was featured on the cover of the Oct/Nov 2014 issue of SolarToday magazine.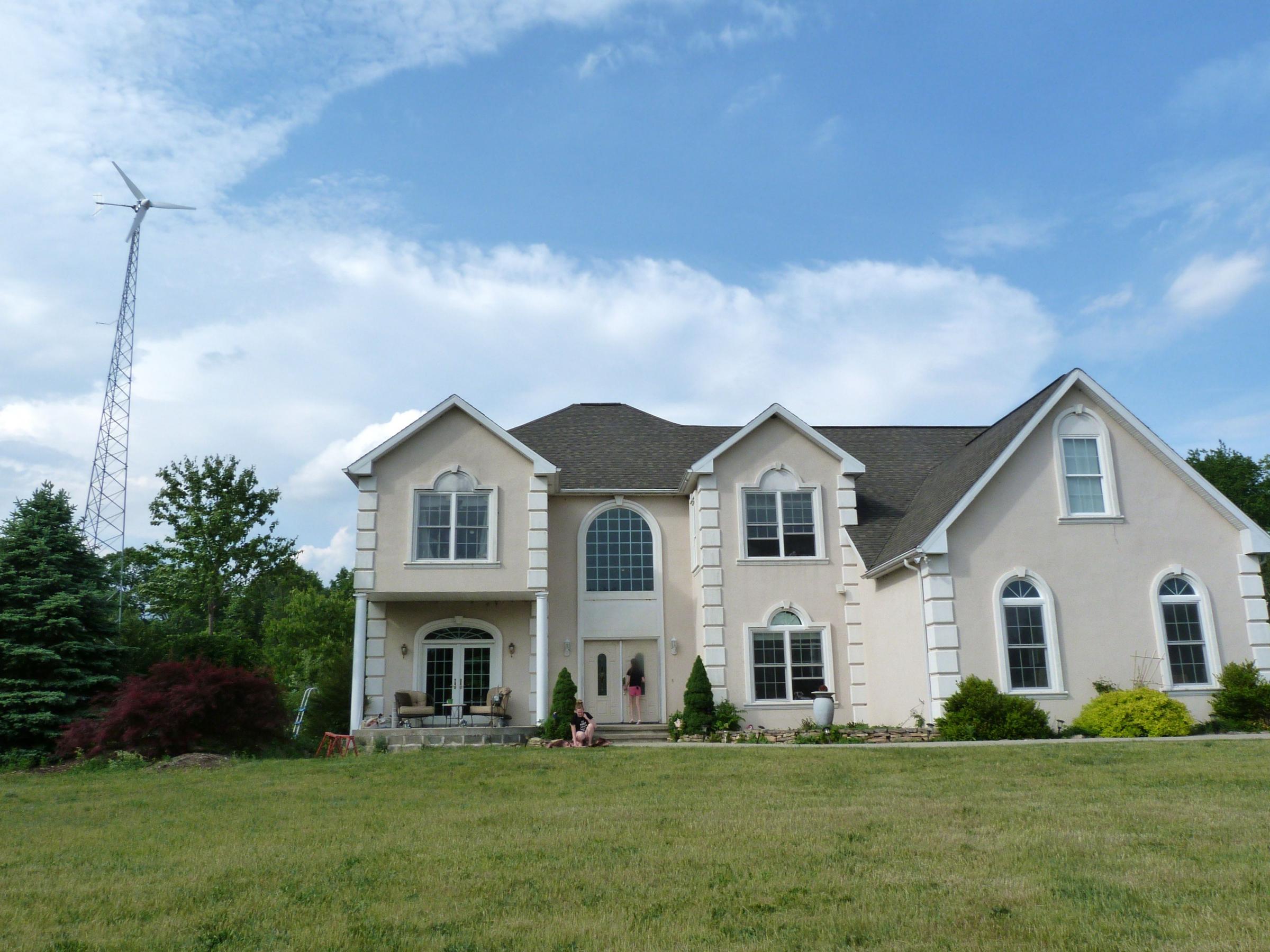 The tour of the second site was led by Frank DeWitt, whose home is fitted with a combination of wind and solar systems which fulfill the majority of his electricity usage. For his conventional home, he has installed a 125 ft, 10KW wind turbine and a 10KW ground-mounted solar array.
The Pro Tour concluded with a workshop, led by Alan and Frank, at the Sussex County Community College. The topic was "Energy Models vs. Actual Performance," and compared energy model projections with actual performance of active and passive solar systems in these two homes in Northern New Jersey. Active systems compared included: solar hot water, solar photovoltaic, wind turbine, and high efficiency heat pumps. Passive systems compared included: sunspace, earth sheltering, direct gain, mass walls and floors.
Member registration: $25 | Non-member registration: $35
CEUs: 2.5 AIA LU/HSW, 2.5 GBCI and certificates of participation are available
Project Details:
Site 1- Contemporary Passive Solar Home with Active Systems
Two-story sunspace

Partially earth-sheltered

Solar PV - 9 kW roof mounted system

Solar Hot Water system backed up by heat pump water heater

Decentralized HVAC system with high efficiency mini ductless split systems

Fully electric vehicle charged by solar PV
Site 2 - Wind Turbine & Solar Array Combine to Power Conventional Home
Wind Turbine - 10 KW, 125 ft high tower, with 2 inverters

Solar PV - 10 KW, ground mounted array, with 2 inverters

Plug-in Hybrid Vehicle powered by solar PV
Schedule:
| | |
| --- | --- |
| 12:30 - 1:00 PM | Doors open, registration and check in at Sussex County Community College (SCCC) |
| 1:00 - 1:30 PM | Welcome by NESEA, overview of project specs by Alan Spector and Frank DeWitt |
| 1:30 - 2:00 PM | Travel to Site 1 on the bus |
| 2:00 - 2:45 PM | Tour of Site 1 |
| 2:45 - 3:00 PM | Travel to Site 2 on the bus |
| 3:00 - 3:45 PM | Tour of Site 2 |
| 3:45 - 4:00 PM | Travel back to SCCC on the bus |
| 4:00 - 4:15 PM | Reception with light refreshments |
| 4:15 - 5:00 PM | Workshop: Energy Models vs. Actual Performance with Alan and Frank, Q&A |