Yestermorrow Pro Tour in Vermont
Event Date:
Friday, August 23, 2013

to

Sunday, August 25, 2013
Venue:
Yestermorrow Design/Build School
Overview
NESEA and Yestermorrow Design/Build School partnered up to host an intensive (and intensely awesome) 2.5 day learning experience and high performance buildings tour in Vermont. Led by Andy Shapiro of Energy Balance, Inc, participants were able to interact with some of the region's leading high performance building practitioners, delving deeply into the details of outstanding projects, asked questions and got feedback on pressing building questions.
Friday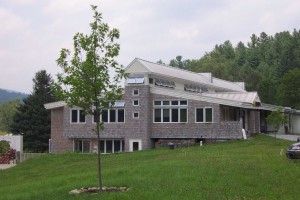 6:00 - 7:00 PM: Optional dinner at Yestermorrow.
7:00 - 9:00 PM: High Performance Building 101
Workshop on the basics of high performance building, led by Andy Shapiro of Energy Balance. Approved for 2 AIA credits & GBCI credits. 
Saturday
9:00 - 10:30 AM Tour of The University of Vermont's George D. Aiken Center led by Bill Maclay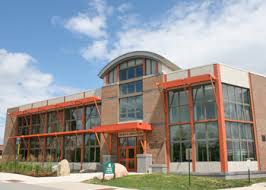 The Rubenstein School community, along with William Maclay Architects & Planners of Waitsfield, Vermont, created a vision for a renovated George D. Aiken Center. Besides designing for more efficient space, the vision promoted environmental sustainability and reducing the School's ecological footprint. The greened Aiken Center blends ecologically designed systems and advanced technology to clean and renew the building's air and water, naturally light the interior, and house occupants and greet visitors in a welcoming,healthy, and stimulating environment. The School will educate a new generation of ecologically literate citizens who understand the "environmental costs" of traditional construction and building operations, and the benefits of designing and living within a space integrated with and connected to ecological systems.
11:00 - 12:15 PM tour of NRG Systems facilities led by Bill Maclay
NRG Systems, manufacturer of measurement systems and products for the global renewable energy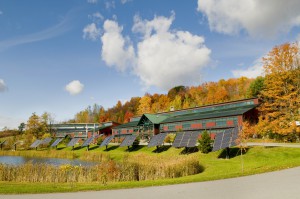 industry, designed its Hinesburg (VT) campus to embody the company's values and mission while providing a healthy, beautiful and functional place for its employees to work. The campus features two LEED gold-certified buildings—one completed in 2004 and the other completed in 2008—that make extensive use of solar energy and are capable of being completely powered by renewable energy. The buildings' unique open designs provide light, fresh air, comfort and high functionality. A networked control system orchestrates the buildings' heating, cooling and fresh air ventilation system to provide the best comfort at the lowest energy consumption. NRG Systems sourced locally made and earth-and human-friendly materials whenever possible to minimize environmental impacts, protect employee health and ensure quality indoor air. Architect: Maclay Architects & Planners.
1:00 - 4:30 PM Tour of three Peter Schneider/Tim Yandow projects led by the builders themselves
Kallock House Preferred Building Systems PH level envelope with Fibertec windows and doors, MSZ/MUZ FE18, ComfoAir 350 with ComfoFond, Sunward SHW.
Clough-Gardner House Stick built by Tim Yandow, designed to meet Efficiency Vermont's High Performance Home Tier (see attached), Amvic +3.30 ICF foundation, 12" double 2x4 cellulose wall, Schuco windows and doors, flat trussed attic with cellulose, same HVAC as above.
Wu-Wildely House Stick built by Tim Yandow, designed to meet Efficiency Vermont's High Performance Home Tier (see attached), Amvic +3.30 ICF frost walls with slab on grade, 12" double 2x4 cellulose wall, sloped cellulose roof assembly, Schuco windows and doors, CERV with inline duct heater and GE GeoSpring HPWH.
7:00 - 9:00 PM Evening Forum
Join some of the project teams from the buildings and homes you've toured as they delve even deeper into high performance building and answer some tough questions; what would they do again, and what would they do differently?
Sunday
A historic brick school building that has been converted to the Montpelier Senior Center and senior housing. Structural brick was carefully analyzed to determine suitability for interior insulation. Systems include energy recover ventilation, solar hot water, wood pellet fired boiler, and solar hot water. Walls were spray-foamed, roof has 9" urethane board insulation under a membrane.
10:45 - 11:45 AM Tour of White Pine Cohousing Community led by Andy Shapiro
Six unit cohousing, built primarily with local lumber, modest home size - 1200 to 1900 sq.ft. (interior) 12" cellulose walls, 16 - 18" cellulose n roof; Durisol R-28/R-24 foundations, heat recovery ventilation, solar hot water and PV on some units, central wood-fired pellet boiler serves 6 units plus common building; open land conserved in bylaws.
1:00 - 2:00 PM Tour of the Ellenbogen House led by builder Bill Heigis
The Ellenbogen House is a 2,500 sq.ft. home with passive solar gain, super-insulation, a wood stove and a multi-zone air source heat pump. It uses solar hot water, a 7.35 kW PV array, and a HRV. It is near net-zero.
3:00 - 4:00 PM Tour of a transition Farmhouse Retrofit led by Ben Graham
This is a deep energy retrofit of an old farmhouse. It is fossil fuel free and utilizes solar hot water and PV. It has an attached greenhouse with 12" walls, <2 ACH 50, double gasket doors, triple pane windows, dumbwaiter root cellar, thermosiphoned hot water, recycled timbers, and a wood cook stove.